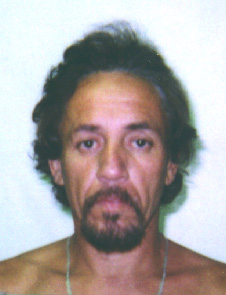 CHARLES SADINO
…nabbed in Puna
HAWAII COUNTY POLICE DEPARTMENT
HILO CRIMINAL INVESTIGATION SECTION
DETECTIVE GREG ESTEBAN
PHONE: 961-2384
JULY 6, 2000
MEDIA RELEASE
Big Island police Thursday (July 6, 2000) captured an inmate who escaped from the Kulani Correctional Facility nearly two months ago.
Acting on a tip at 6:07 a.m., Hilo Criminal Investigation and Juvenile Aid Section detectives and Puna patrol officers apprehended Charles Sadino, 42, at a residence on Coconut Drive in the Ainaloa subdivision of Puna.
Sadino, also known as "Alika Kahikina," escaped May 14, 2000, from the Kulani facility.
He was apprehended without incident and is being held without bail in the Hilo police cellblock.
# # #

Print This Post