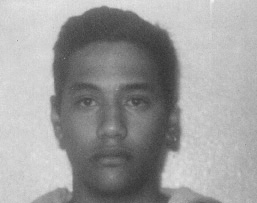 ROY S.K. KUAHUIA
…missing from Hilo Interim Home
HAWAII COUNTY POLICE DEPARTMENT
JUVENILE AID SECTION
LIEUTENANT LARRY WEBER
PHONE: 961-2254
JULY 9, 1999
F-95815
MEDIA RELEASE
Big Island police are looking for a 17-year-old boy reported missing from the Hilo Interim Home since May 28, 1999.
The boy, Roy S.K. Kuahuia, is described as being a local male, being 5-feet-9 in height, weighing about 156 pounds with a slim build and having brown hair and eyes. He was last seen wearing a black jacket, blue jeans, black shoes and a blue baseball cap.
He reportedly left the interim home on Kinoole Street without permission.
Anyone with information about Kuahuia's whereabouts is asked to call the Juvenile Aid Section at 961-2327, the police emergency number at 935-3311 or Crime Stoppers at 961-8300 in Hilo or 329-8181 in Kona.
# # #

Print This Post