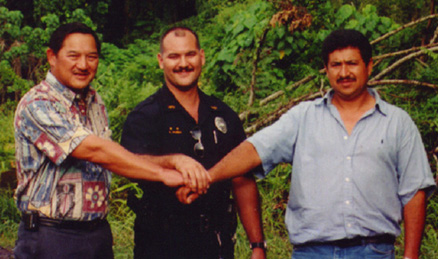 PARTNERS — HELCO President Warren Lee, left, Community Policing Officer Robert Almeida and Salvador Luquin, owner of Luquin's Mexican Restaurant, join hands in a partnership to reduce crime in Pahoa. The three worked together to install lights in the Akebono Theater parking lot, which residents say has been a center of illegal drug activities in Pahoa.
HAWAII COUNTY POLICE DEPARTMENT
PUNA COMMUNITY POLICING
OFFICER ROBERT E. ALMEIDA
PHONE: 966-5835
SEPTEMBER 29, 1999
MEDIA RELEASE
Cooperation between Puna police, the community and private businesses have lightened a major crime area in Pahoa that previously hid illegal activities in the dark.
The parking lot of Pahoa's Akebono Theater is now brightly lit at night, thanks to the efforts of community policing, Amfac, Hawaiian Electric Light Company and Luquin's Mexican Restaurant.
After receiving numerous complaints that the theater parking lot was being used for illegal drug activities at night, Puna Community Policing Officer Robert Almeida worked with private businesses which donated time, materials and money to erect light fixtures to illuminate the area at night.
The landowner, Amfac Inc., gave permission to erect the lights. Working with donated fixtures, HELCO provided the poles and installed the lights. Luquin's will pay the monthly electric bill to illuminate the parking lot.
Officer Almeida noted the parking lot has been a high crime area, which he described as the "center of problems in Pahoa."
"Thanks to the efforts of the businesses involved," he said, "criminal activities in the area have declined dramatically."
# # #

Print This Post