HAWAII COUNTY POLICE DEPARTMENT
OFFICE OF THE POLICE CHIEF
PHONE: 961-2244
MAY 13, 2005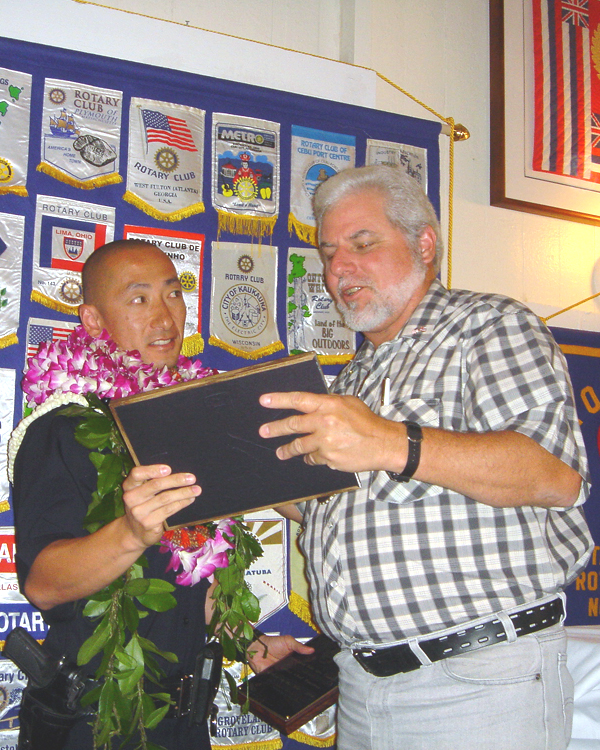 NORTH HAWAII OFFICER OF YEAR – Officer Chad Taniyama of the South Kohala Patrol receives an award naming him North Hawaii Officer of the Year from J. William Sanborn of the North Hawaii Rotary Club. Sanborn is also chairman of the North Hawaii Public Safety Committee.
MEDIA RELEASE
Officer Chad Taniyama of the South Kohala Patrol was recently named North Hawaii's Police Officer of the Year.
Through this award, the North Hawaii Rotary Club recognizes one of the officers assigned to the Districts of South Kohala, North Kohala and Hamakua annually for outstanding work and contributions to the North Hawaii community.
A presentation luncheon was held for Taniyama, April 20, 2005 at Daniel Thibeaut's Restaurant in Waimea.
In his nomination of Taniyama, Sergeant Harold L. Sumaoang described how Officer Taniyama conducts criminal investigations with enthusiasm and persistent tenacity.
In particular, Sumaoang cited as a serious domestic violence incident investigated by Taniyama in which a female victim was stalked, kidnapped and threatened while being held captive by her ex-boyfriend. The suspect had also committed a burglary, several thefts and violated a court order.
During the investigation, Taniyama maintained a professional, compassionate approach with the distraught victim. This enabled him to obtain very detailed information about the suspectÕs actions and other important information that later led to the suspect's apprehension.
Although the suspect eluded the police, Taniyama continued to actively seek individuals who could provide him with information on the suspect's whereabouts. While the suspect was still at large, Taniyama quickly followed these leads, continually providing detailed information to other officers and detectives. Taniyama also continued open communication with the victim, keeping her apprised of developments and taking continual steps to insure the victim's safety.
Through the pressures of the public and officers being on the lookout for the suspect, the suspect gave himself up at the Kona police station.
Taniyama's determination and swift actions were principal factors that led to the suspect's apprehension, ending the serious threat to the victim and the community posed by this individual.
Officer Taniyama is an eight-year veteran of the Hawaii County Police Department. During his career, he has been assigned to the districts of South Hilo, Kona and South Kohala.
In accepting this award, the soft-spoken Taniyama thanked the North Hawaii Rotary Club for sponsoring the award. He also expressed his appreciation to the entire community of South Kohala, which Taniyama described as being the most supportive residents of the Big Island.
# # #

Print This Post