HAWAII COUNTY POLICE DEPARTMENT
TRAFFIC SERVICES SECTION
SERGEANT RANDY K. APELE
PHONE: 961-2305
OCTOBER 1, 2003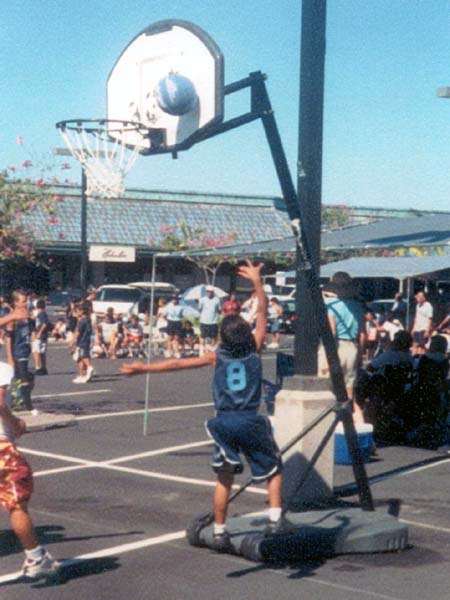 BASKETBALL TIME AGAIN-The Traffic Services Section and HI-PAL are sponsoring a "Click It or Ticket" 3-on-3 Basketball Tournament in November. Here, a player scores in last year's tourney.
MEDIA RELEASE
The Traffic Services Section in conjunction with the Hawaii Isle Police Activities League (HI-PAL) is accepting registration for a 3-on-3 basketball tournament to be played in East Hawaii in November.
The second annual "Click It or Ticket" 3-on-3 Basketball Tournament is scheduled for November 15-16, 2003, at the Keaau High School gymnasium.
Entries are being accepted in the following divisions: 8 & Under, 9-10, 11-12, 13-14, 15-17 (coed), 12 & Under Girls, 14 & Under Girls and 15-17 Girls.
"We are using this athletic event as a forum to provide education and awareness of our seat belt laws," Sergeant Randy Apele of the Traffic Services Section.
"Most people are unaware that state law requires all youth and teens 4-17 years old to be belted in whether they are front- or rear-seat passengers. As a result, about only 70 percent of our children are belted in as passengers in the back seat of cars."
Interested teams should call Sergeant Apele at 961-2305. Because of limited space available, teams will be accepted on a first-come, first-served basis.
# # #

Print This Post