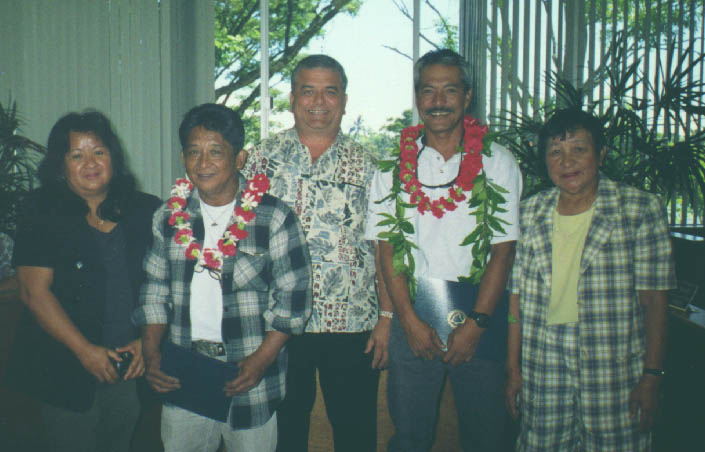 LIFESAVERS — Alberto Alejandro and Franklin Nacis have received letters of commendation from Police Chief Wayne Carvalho for helping save the lives of four persons trapped in a burning vehicle. Attending the presentation are, from left, Elizabeth Alejandro; her husband, Alberto Alejandro; Chief Carvalho; Franklin Nacis; and his mother, Gladys Nacis.
HAWAII COUNTY POLICE DEPARTMENT
OFFICE OF THE POLICE CHIEF
PHONE: 961-2244
NOVEMBER 30, 1999
MEDIA RELEASE
Police Chief Wayne Carvalho has commended two Hilo residents for helping save the lives of four persons trapped within a burning vehicle last July.
Alberto Alejandro and Franklin Nacis received letters of commendation from the chief at a meeting of the Hawaii County Police Commission, held on October 15, 1999, at the Department of Liquor Control.
In his letters, Carvalho noted that on July 3, 1999, the two men came upon a traffic accident on the Hawaii Belt Road near Hawaiian Ocean View Estates in Ka'u. A vehicle had run off the roadway, struck an embankment, landed back onto the roadway and burst into flames.
The four occupants of the vehicle, three of them seriously injured, were trapped inside.
According to police reports, after Alejandro and Nacis observed that other spectators at the scene were not helping the occupants of the burning vehicle, they both immediately rendered assistance at personal danger to themselves.
Tabitha DeMello, 13, was trapped in the front seat. By cutting the front seat belt and prying the dashboard off Tabitha, Alejandro and Nacis were able to free the girl from the wreckage and carry her to safety. They then returned to the burning vehicle and pulled out the driver, Ms. Valerie DeMello, and two back seat passengers, Jesse DeMello and Christian Vidal, both 11 years old.
"You demonstrated great personal courage at the risk of your own life to help other people in danger," the chief said in his letters to the two men. "I thank you for your quick action and commend you for your heroic act to save the lives of fellow human beings."
# # #

Print This Post