HAWAII POLICE DEPARTMENT
AREA I CRIMINAL INVESTIGATION DIVISION
CAPTAIN CHAD FUKUI
PHONE: 961-2251
DECEMBER 23, 2005
C05019746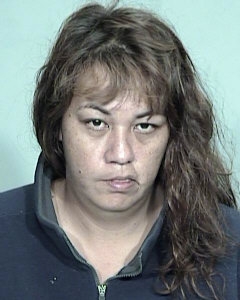 MEDIA RELEASE
Big Island police have arrested and charged a 38 year-old Hilo woman in connection with life-threatening injuries to a female child under her care which was reported to police on February 7, 2005. Hyacinth Poouahi was arrested this morning (December 23, 2005) at her residence on the strength of a Grand Jury indictment issued by Circuit Court Judge Glenn Hara. She was arrested and charged for one count each of attempted murder in the second degree, terroristic threatening in the first degree, endangering the welfare of a minor in the first degree, assault in the first degree, and kidnapping and is currently being held at the Hilo Cellblock in lieu of $25,000.00 aggregate bail. Police reported that she was arrested without incident.
Police initiated an endangering the welfare of a minor investigation on February 7, 2005 after responding to a call from the Hilo Medical Center, reporting extensive and suspicious injuries to a 10-year-old girl that was brought to their facility by fire rescue. It was learned that Poouahi, who was the girl's caretaker at the time, called "911" and requested fire rescue assistance at a residence in Ainaloa Subdivision, due to her medical condition of the female child. Noting the extent of the child's injuries and her critical condition, fire rescue transported the child to the Hilo Medical Center.
The child was flown to Kapiolani Medical Center for Women and Children for further medical treatment after her condition was stabilized. The girl remained in a coma for several weeks while at the Kapiolani facility. Police will only say that her condition improved after extensive treatment, and she was temporarily transferred to a medical facility in California for specialized treatment and care. She has since returned to Oahu. Police will not identify the girl, however, confirmed that she is still under foster custody with the Children Welfare Services.
Captain Fukui confirmed an earlier statement by Deputy Prosecutor Rick Dammerville that "the case is not closed" and that police and prosecutors are continuing the investigation with the possibility of additional defendants being indicted as a result of this incident.
Police will not discuss the details of the injuries sustained by the victim, nor will they comment on her present condition, other than saying she is still in the state of recovery.
###

Print This Post