Hawai'i Police Department
Hilo Patrol
Sergeant Nelson Cacho Sr.
Phone: (808) 961-2213
Report No.: 22-015269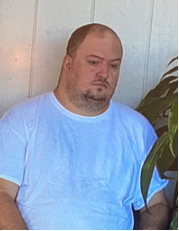 Media Release
Hawai'i Island police are requesting the public's assistance in locating 35-year-old Caleb Vogel of Hilo who is reported missing. He was last seen in Hilo on Thursday, February 17, 2022, around 2:00 p.m.
Vogel is described as Caucasian, 5 feet 11 inches tall, 240 pounds, with hazel eyes and black hair. He has a medical condition that requires him to take medication.
Police ask anyone with information on Vogel's whereabouts to call the police department's non-emergency line at (808) 935-3311 or contact Officer Boyd Bangloy at boyd.bangloy@hawaiicounty.gov.

Print This Post