HAWAII COUNTY POLICE DEPARTMENT
OFFICE OF THE POLICE CHIEF
PHONE: 961-2244
MAY 14, 2004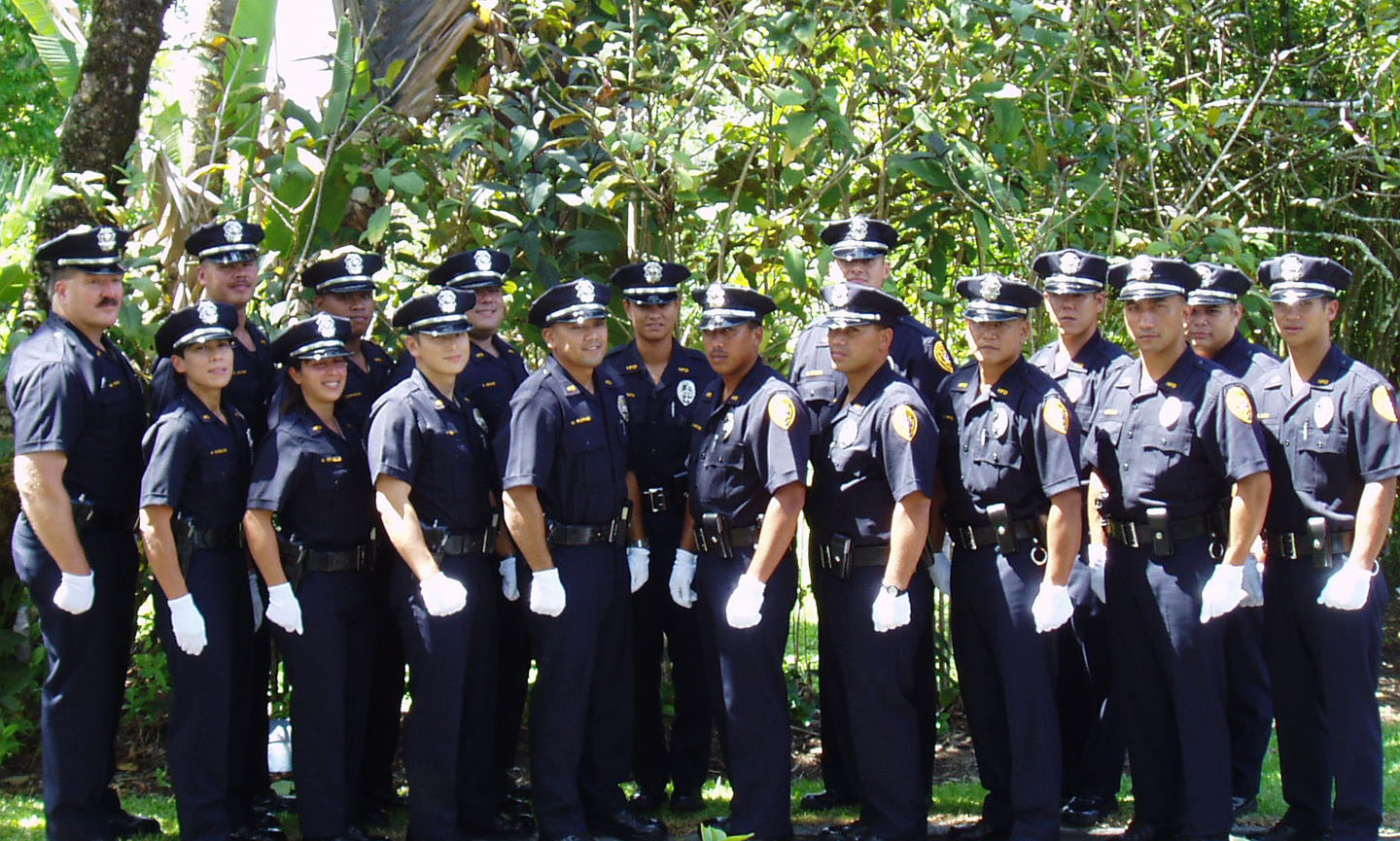 GRADUATION CLASS – Members of the 63rd Police Recruit Class graduated Friday during ceremonies at the Nani Maui Gardens Restaurant in Hilo. Members of the class are, front row, Michael R. Molnar, Joslyn J. Kabalis, Kristi A. Crivello, Paul D. Kim, Dustin S. Sampaga, Dean M. Uyetake, Angitau Fa'anunu, James L. Lorenzo, William C. Brown and Scotty K. Aloy; back row, Clarence W. Davies III, Norman-Randy Caoagdan, Kelly M. Moniz, Charrise K. Wakita, Kainoa C. Keawe, Patrick T. Kihara and Zachary O. Fernando.
MEDIA RELEASE
Seventeen members of the Hawaii County Police Department's 63rd Recruit Class graduated Friday (May 14, 2004) during ceremonies held at Hilo's Nani Mau Gardens Restaurant.
The police graduates, who underwent seven months of intensive training, will now undergo nine more weeks of on-the-job field training after being assigned to veteran police officers.
During luncheon ceremonies, Sergeant Duane Rapoza, one of the recruit trainers, noted that there were originally 22 recruits. Three dropped out in the early weeks of training, he said.
Two more — Aaron M. Carvalho, class president, and Anson J. Caceres — were called to active duty in Iraq. When they complete their tours of duty, they can return and complete their police training, Rapoza said.
Lieutenant Governor James R. "Duke" Aiona, keynote speaker, told the graduates their presence at the ceremonies was "evidence of your courage and your commitment to service to your community.
A former deputy prosecutor and Family and Circuit Court judge in Honolulu, Aiona said his own career in law enforcement gave him "respect and admiration" for police officers for the job they do to protect society.
He urged the graduates to be mindful of their unique position and of the reputation of their fellow officers, saying: "What you do reflects on everyone else."
Police Chief Lawrence K. Mahuna urged the graduates to "give yourself honor, professionalism and integrity — these will uphold you when things are bad."
Joking that what he was about to say was "politically incorrect," the chief ended his remarks by saying: "I welcome you to the best police department in the state of Hawaii."
Mayor Harry Kim, Horace S. Hara, chairman of the Hawaii County Police Commission, and James Y. Arakaki, County Council chairman, also spoke at the graduation ceremonies.
Three of the graduates received special recognition for their excellence in training. They were Clarence W. Davies, who excelled in firearms training; Joslyn J. Kabalis, who excelled in physical training; and Michael R. Molnar, who excelled in academic training.
# # #

Print This Post