Hawai'i Police Department
Kona Patrol
Sergeant Thomas Chun-Ming
Phone: (808) 935-3311
Report No. 23-082425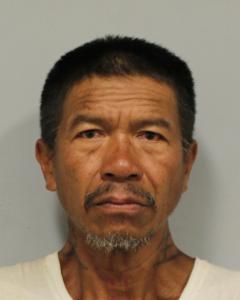 Media Release
Hawaii Island Police have charged a Kailua Kona man on August 29, 2023, with numerous offenses stemming from an incident that occurred the previous day, August 28, 2023, at the Kailua Pier, located at 75-5664 Kaahumanu Place, Kailua Kona, Hawaii, 96740.
The suspect is identified as 54-year-old Julius Jordan Ibanez, of Kailua Kona.
On Monday morning, August 28, 2023, at about 0215 hours, Kona Patrol officers responded to the Kailua Pier on a report of an agitated male suspect damaging a truck with a skateboard. The caller also reported that the suspect was untying boats from the dock.
The responding officers arrived on scene, and immediately located a male walking on the pier that matched the description of the suspect. The male, who was later identified as Ibanez, was wielding a skateboard and walking in close proximity to a newer model pick-up truck that had extensive damages throughout its entire body. Officers also observed an approximate 10-foot boat, on the west side of the pier, drifting towards the horizon. A second boat was observed about ¼ mile west of the first boat, though it was barely visible.
Officers contacted witnesses that reported Ibanez walked toward a newer model pick-up truck and hit it numerous times with a skateboard. Ibanez then entered two nearby boats and untied the mooring that secured it to the dock allowing them to drift freely toward the horizon.
Ibanez was arrested without incident and transported to the Kealakehe Police Station while Kona Patrol Officers continued the investigation. The Hawaii Fire Department responded to the scene and provided crucial assistance that resulted in the successful recovery of the vessels, valued in excess of 40,000.
After conferring with the Office of the Prosecuting Attorney, Ibanez was charged with the following offenses:
Criminal Property Damage in the Second Degree
2 counts of Unauthorized Entry into a Motor Vehicle in the First Degree
Theft in the First Degree
Theft in the Second Degree
Theft in the Fourth Degree
Harassment
Disorderly Conduct
Habitual Property Crime
Ibanez's bail was set at $78,000. He remains in police custody and is scheduled to appear in Kona District Court on August 30, 2023, for his initial hearing.
Anyone with information about this case is encouraged to contact Kona Patrol Officer Vincent Sanekane, via email at Vincent.Sanekane@hawaiicounty.gov, or at the Dispatch non-emergency telephone number at (808) 935-3311.

Print This Post