Hawai'i Police Department
Puna Patrol
Officer Edward Petrie            
Phone: (808) 965-2716
Report No.: 23-085169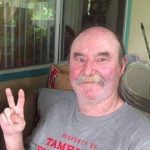 Media Release
Hawai'i Island police are asking for the public's assistance in locating 68-year-old Gary Tabner of Pāhoa, who was reported missing on Tuesday, September 5, 2023.
Tabner was last seen in the Pahoa area in the beginning of August 2023.
He is described as having a light complexion, 5 feet 11 inches tall, 180 to 200 pounds, with hazel eyes, balding with dark gray hair and a gray mustache. Tabner also speaks with a British accent.
Police ask anyone who may have information on Tabner's whereabouts to please contact the police department's non-emergency line at (808) 935-3311.

Print This Post