Hawai'i Police Department
Kona Patrol
Sergeant Thomas Chun-Ming
Phone: (808) 326-4646, Ext. 253
Report No.: 23-084271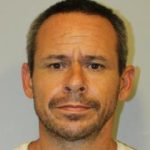 Media Release
Hawai'i Island police arrested and charged a 42-year-old Ocean View man with a plethora of firearms, drug, and theft offenses stemming from an incident that occurred in Kailua-Kona on Friday, September 8, 2023.
Around 11:20 a.m. on Friday morning, patrol officers observed a previously reported stolen vehicle exiting a parking lot in the 75-6000 block of Kuakini Highway in Kailua-Kona. Upon stopping the vehicle, officers identified the operator, and sole occupant, as Daniel James Lemaire.
On Friday, Lemaire was arrested without incident and transported to the Kealakehe Police Station while Kona patrol officers continued their investigation and recovered the stolen vehicle.
A search of the stolen vehicle was conducted later in the day on Friday, resulting in the recovery of 51.53 grams of methamphetamine, 29.35 grams of marijuana, a loaded semi-automatic rifle, 12 rounds of ammunition, and drug paraphernalia consistent with methamphetamine distribution.
After conferring with the County Prosecutor's Office, Lemaire was charged on Saturday morning, September 9, with the following offenses and his bail was set at $288,250:
Unauthorized control of a propelled vehicle
Permits to acquire
First-degree theft
Driving without a license
2 counts of ownership/possession prohibited
Place to keep loaded firearm
First-degree attempted promotion of a dangerous drug
First-degree promoting a dangerous drug
Possession of a firearm with the intent to facilitate a felony drug offense
Carrying or possessing a loaded firearm on a public highway
Second-degree promoting a detrimental drug
Prohibited acts related to drug paraphernalia
Lemaire remains in police custody pending his initial hearing scheduled on Monday, September 11, in Kona District Court.
Anyone with information about this case is encouraged to contact Kona patrol officer Justin Uresti, via email at Justin.Uresti@hawaiicounty.gov, or the police department's non-emergency number at (808) 935-3311.

Print This Post