Hawai'i Police Department
Traffic Services Section
Torey D. Keltner, Program Manager
Phone: (808) 961-2305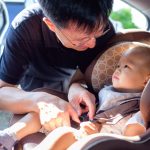 Media Release
To kick off National Child Passenger Safety Week, the Hawai'i Police Department (HPD) is holding two child safety seat clinics, one in Kona and one in Hilo, this Sunday, September 17, 2023. Both events will take place from 9 a.m. to 12 noon, with the Hilo event held in the parking lot fronting Ross Dress for Less, 307 Maka'ala Street, and the Kona event held in the Target parking lot, 74-5455 Makala Blvd. Technicians will be on hand to assist families with the proper installation of child safety seats, check for any factory recalls on seats and vehicles, and answer questions the public might have.
This year National Child Passenger Safety Week, a program of the National Highway Traffic Safety Administration (NHTSA), runs September 17-23, 2023. (NHTSA) holds this week-long awareness campaign every September to highlight the importance proper child safety seat usage and seat belt laws to prevent serious injuries and fatalities to keiki during vehicle crashes.
HPD is teaming up with a variety of community and state organizations to offer these child safety seat clinics, including Partners for Safe Keiki, the East Hawai'i Kiwanis Club, Judiciary's Driver Education program, the Department of Health Public Health Nursing and Special Services, Hilo Medical Center, and the State of Hawai'i Department of Transportation.
"We are excited to hold these events in collaboration with our partner agencies to shine a light on the importance of properly installed child car safety seats," says Torey Keltner, HPD's Traffic Services program manager. "Our kids are our future and it's our kuleana to take care of them."
Nationwide in 2021, 710 children under age 13 were killed in passenger vehicles and more than 100,000 keiki were injured. Locally, two three-years-old were critically injured in separate traffic collisions in recent months. Both toddlers were not properly restrained.
For more information on Sunday's child safety seat clinic, please contact HPD's Traffic Services Program at (808) 961-2226.  

Print This Post