Hawai'i Police Department
South Kohala District
Community Policing Officer Ansel Robinson
Phone: (808) 887-3080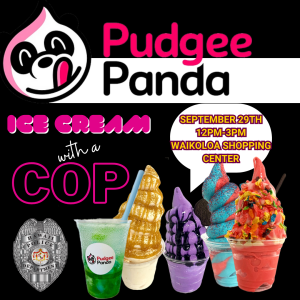 Media Release
Hawai'i Police Department's South Kohala Community Policing officers are holding a Ice Cream With a Cop event on Friday, September 29, 2023, from 12 p.m. to 3 p.m. at Pudgee Panda in the Waikoloa Shopping Center, 68-1820 Waikoloa Road, in Waikoloa Village. This is a sweet twist on the popular community engagement program Coffee With a Cop.
The concept is simple. Community members are encouraged to sit down with officers to discuss concerns, ask questions, and get to know the people who serve their community. Ice Cream with a Cop offers the same opportunity as Coffee With a Cop, but with a sweet twist that families, especially children, will love!
In Hawaii, "talking story" is more than just a conversation. It's a way of sharing ideas, history, and personal narratives in a meaningful way. This event is a perfect opportunity for our officers and community members to "talk story" and build stronger bonds.
The Hawaii Police Department is committed to community engagement, and we look forward to sharing a scoop or two with you. For any further questions or inquiries about the event, please contact our South Kohala Community Police Officers at (808) 887-3080.

Print This Post