Hawai'i Police Department
Kona Patrol
Officer Andrew Padilla
Phone: (808) 326-4646 ext. 253
Report No.: 23-090449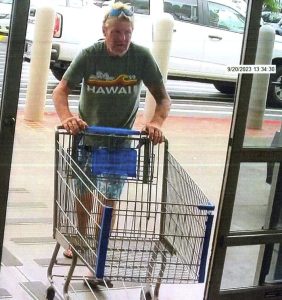 Media Release
Hawai'i Island police are asking for the public's assistance in identifying the suspect responsible for stealing a television from a Kailua-Kona store. The theft occurred on Wednesday afternoon, September 20, 2023, around 1:30 p.m., however was not reported to police until Thursday, September 21, around 7:44 p.m.
Kona patrol officers responded to the business in the 75-1000 block of Henry Street in Kailua-Kona on Thursday evening after an employee reported that an unknown male party removed a television from its box while within the store, placed the item into a shopping cart, and proceeded to exit the business without making an effort to pay for the item. He subsequently left the property in an unknown vehicle.
The suspect is described as a Caucasian male with a medium build in his late 50s, between 5 feet 9 inches and 5 feet 11 inches tall, wearing blue boardshorts and a green t-shirt with the word "Hawaii" printed on the front.
Police ask that anyone who may know the suspect's identity to please call the police department's non-emergency number at (808) 935-3311, or Officer Andrew Padilla of Kona Patrol at (808) 326-4646 ext. 253, or via email at andrew.padilla@hawaiicounty.gov.

Print This Post