HAWAII COUNTY POLICE DEPARTMENT
OFFICE OF THE POLICE CHIEF
PHONE: 961-2244
MAY 12, 2004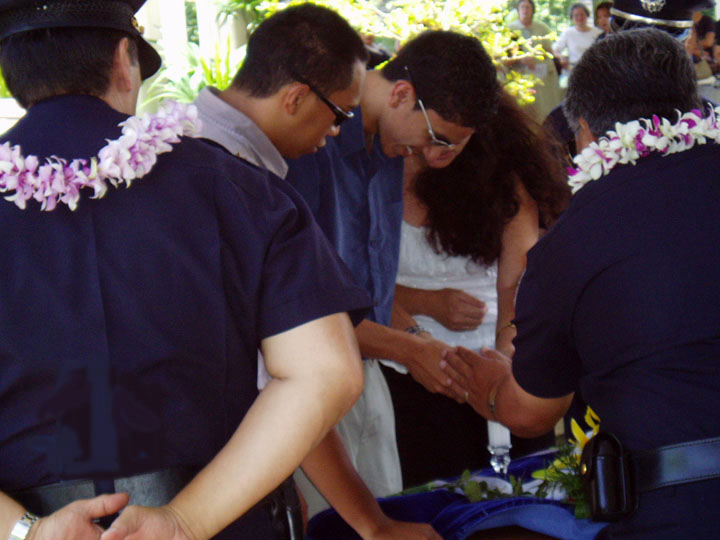 A PROMISE NOT TO FORGET – Members of the family of the late Officer Kenneth Keliipio gather round to light a candle in memory of the fallen officer. The lighting of the candles was part of Police Memorial Day ceremonies held in the courtyard of the Public Safety Building.
MEDIA RELEASE
The Hawaii County Police Department paused Wednesday (May 12, 2004) to honor the memory of three of its officers who died in the line of duty.
The memorial service was part of the 42nd annual Police Week held nationally in honor of police officers who have given their lives in the line of duty.
During a public ceremony held in the courtyard of the Public Safety Building, Police Chief Lawrence K. Mahuna recalled the three Big Island officers who lost their lives — Officer Manuel Cadinha, who lost his life in 1918; Officer Ronald "Shige" Jitchaku, who was killed in 1990; and Officer Kenneth Keliipio, who died in 1997.
Mahuna also noted that three current members of the Police Department are now serving on active military duty in the Middle East. They are Recruit Officers Aaron Carvalho and Anson Caceres, who have been deployed to Iraq, and Puna Patrol Officer Jeffrey Natividad, who has been assigned to Afghanistan.
"We pray that all three will return safely to us," Mahuna said.
Dixie Kaetsu, county managing director, thanked the gathered police officers "for what you do every day for our island." Kaetsu said the police officer's job is "not always appreciated like it should."
County Councilman Leningrad Elarionoff, himself a former Big Island police officer, told the assembled officers that most of the time, "people will say you screwed up." The reason for that is that "people have unrealistic expectations of their police officers," Elarionoff said. "They expect them to do miracles," he added.
"I do appreciate them for making our lives more enjoyable and safer, often at the risk of their own lives."
Horace Hara, chairman of the police commission, noted that there is "always a danger that an officer can be injured or killed protecting us in a world of drugs and crime."
Members of the Cadinha and Keliipio families then lit candles in memory of the officers who died in the line of duty. As the candles were being lit, Police Chaplain Sonny Shimaoka noted: "The lighting of these candles symbolizes that these three men lightened our lives at one time. It's also a promise that every time we light these candles, we won't forget them."
During the 11 a.m. ceremony, police lowered the U.S. and Hawaii state flags to half-mast in honor of fallen law enforcement officers.
The ceremony was one of two held for Peace Officers' Memorial Day. An earlier memorial service was held at 9:30 a.m. at the Glad Tidings Church in Hilo.
The week of May 10-16, 2004, was proclaimed Police Week in honor of the more than 14,000 law enforcement officers who gave their lives in the line of duty.
Police Week has been celebrated since 1962, when President John F. Kennedy proclaimed May 15, of each year as Peace Officers' Memorial Day and the calendar week on which May 15 falls as Police Week.
For the rest of Police Week, police exhibits are on display in the Traffic Services Section of the Hilo police headquarters and in the public parking lot fronting the building.
In addition, all police stations on the Big Island are open for conducted public tours. Anyone interested in scheduling a tour of a police station is asked to call Officer Dexter Veriato of the Community Relations Section at 961-2264.
# # #

Print This Post