HAWAII POLICE DEPARTMENT
OFFICE OF THE CHIEF
LAWRENCE K. MAHUNA
PHONE: 961-2244
JANUARY 22, 2007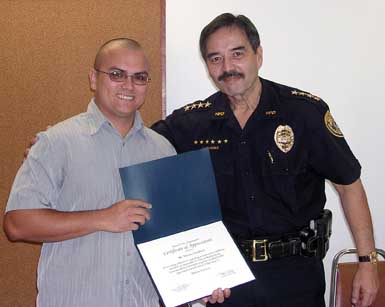 MEDIA RELEASE
Police Chief Lawrence K. Mahuna presented a certificate of appreciation last week to one of three citizens who helped police catch a suspect being sought last year for a stabbing.
Thomas Leinbach was recognized at a January 16 meeting at the Kona police station for his efforts on September 3, 2006.
On that date police responded to the reported stabbing of a homeless man on Henry Street in Kailua-Kona. Police learned that the suspect had stabbed the victim with a 4-inch knife and then continued to pursue him. A motorist, Randy Ganir, and his passenger, Peter Ebaniz, stopped to assist the victim. While Ganir comforted the victim, Ebaniz pursued the suspect, who fled the area.
Leinbach drove Ebaniz to the suspect's location at the intersection of Henry Street and Queen Kaahumanu Highway, where the man was seen trying to enter vehicles. Ebaniz approached the suspect and was able to disarm him and restrain him until officers arrived.
Because of the three men's efforts, police were able to arrest the suspect and recover a weapon used in the stabbing.
All three men were recognized for their efforts but only Leinbach was able to attend the award ceremony.
At the ceremony, Chief Mahuna said the three men's actions have made the community safer. "It's a heroic effort," he said. "It warms the insides of my heart."
# # #

Print This Post