HAWAII COUNTY POLICE DEPARTMENT
PUNA PATROL DISTRICT
CAPTAIN DEREK D. PACHECO
PHONE: 966-5835
MAY 12, 2004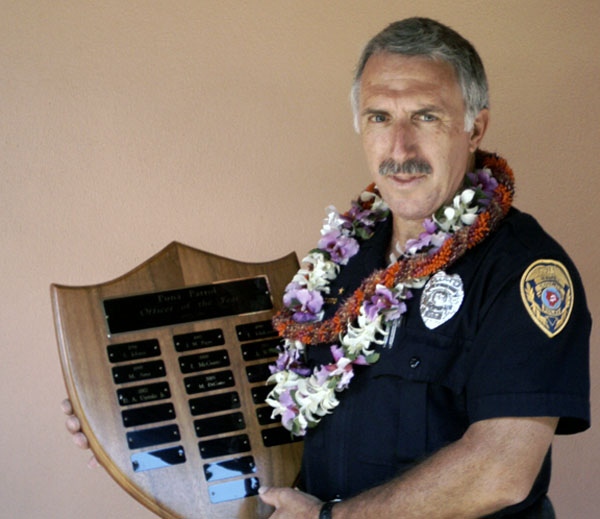 PUNA OFFICER OF YEAR – Office Michael DeCoito has been named both Puna Patrol Officer of the Year and Traffic Safety Officer of the Year for 2003. It's the first time a Puna officer has won both awards in the same year.
MEDIA RELEASE
The Puna District of the Hawaii County Police Department celebrated Police Week on Wednesday (May 12, 2004) with a luncheon to honor Officer Michael DeCoito as Puna Patrol Officer of the Year for 2003.
Officer DeCoito's wife, Gwen, his son and parents were present during the ceremony.
Officer DeCoito, who lives in Kaiwiki, joined the department on June 3, 1985. He was stationed in Laupahoehoe, North Hilo, before being transferred to the Puna District.
The winner of this year's award was chosen by his peers in a tradition that stretches back to 1996, when the award was started. Past winners are Sergeant Samuel Jelsma, 1996; Officer John "Masa" Pagay, 1997; Officer Lloyd Ishikawa, 1998; Officer Michael Aina, 1999; Officer Iris McGuire, 2000; Officer John Weber, 2001; and Officer Dominic Uyetake, 2002.
Officer DeCoito was also honored as the Traffic Safety Officer of the Year for 2003 — the first time an officer has been selected for both awards.
He was chosen by the Puna Traffic Safety Council, which reviewed district traffic statistics and performance records to make their selection. The Council cited Officer DeCoito's consistently strong enforcement records through the years.
# # #

Print This Post