Hawai'i Police Department
Traffic Enforcement Section
Sergeant Kelly Ka'aumoana-Matsumoto
Phone: 961-2305
September 3, 2009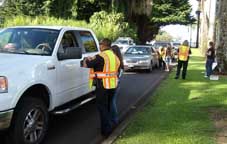 Police officers and representatives of Mothers Against Drunk Driving educate motorists about the hazards of driving under the influence of drugs or alcohol at a DUI checkpoint in Hilo on Wednesday.
Media Release
Big Isle police are informing motorists that police will be conducting DUI checkpoints throughout the Big Island in anticipation of the upcoming Labor Day holiday. The effort is part of a national and statewide campaign called "Drunk Driving: Over the Limit. Under Arrest." Sergeant Kelly Ka'aumoana-Matsumoto, head of the Traffic Services Section, said police are reminding motorist of the consequences of impaired driving.
Officers from the Traffic Enforcement Unit and Traffic Services Section, and representatives of the Big Island Mothers Against Drunk Driving chapter conducted a DUI checkpoint Wednesday (September 2) in Hilo. Police and the MADD representatives reminded motorists about the hazards of drinking and driving and gave them literature on the subject.
The checkpoint kicked off the upcoming Labor Day weekend enforcement efforts on the Big Island.
In 2008, Hawai'i County had 27 fatal traffic accidents, resulting in 27 deaths. Seventeen of the deaths were alcohol related, and 13 were drug related. "We need to get the message out that driving under the influence of alcohol and or drugs kills," said Ka'aumoana-Matsumoto. "Always remember to have a designated sober licensed driver."
---

Print This Post