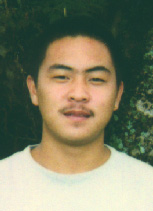 CONRAD NISHIHARA
…apprehended by Puna police
HAWAII COUNTY POLICE DEPARTMENT
JUVENILE AID SECTION
LIEUTENANT LARRY R. WEBER
PHONE: 961-2254
AUGUST 7, 2000
G-27362/HL
MEDIA RELEASE UPDATE
Police have called off the search for an 18-year-old male who escaped from the Children's Comprehensive Service facility in Hilo.
Puna police apprehended the escapee, Conrad Nishihara, at 3:23 p.m. Sunday (August 6, 2000) in Mountain View.
Nishihara had walked off from the Hilo youth facility on April 29, 2000, and never returned. He had been confined to the facility by court order.
# # #

Print This Post