HAWAII COUNTY POLICE DEPARTMENT
KONA CRIMINAL INVESTIGATION SECTION
LIEUTENANT HENRY W. HICKMAN
PHONE: 326-4203
APRIL 22, 2003
H-46420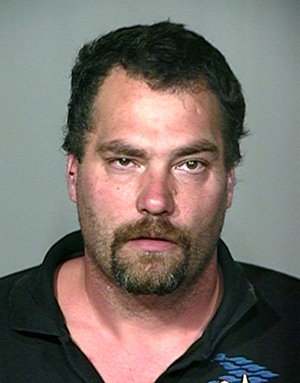 DOUGLAS JOHN FATHKE
…charged with murder
MEDIA RELEASE UPDATE
Kona Criminal Investigation Section detectives charged a 44-year-old Ka'u man with murder Tuesday (April 22, 2003) for the shooting death of his eight-year-old daughter.
Douglas John Fathke, of a Naalehu address, was charged at 10a.m. with murder, attempted murder and terroristic threatening. His bail was set at $550,000.
Meanwhile, the results of an autopsy conducted Monday determined that the victim, Kelsie Fathke, died of a gunshot wound to the head.
The father was arrested Sunday after police responded to an 11:46 a.m. report of gunshots at Becky's Bed & Breakfast in Naalehu and found the daughter in a bedroom fatally shot with a 30-30 caliber rifle.
Police arrested Fathke for murder in the death of his daughter and for attempted murder and terroristic threatening for allegedly trying to strangle a 16-year-old boy staying at the bed and breakfast.
Kona CIS detectives said Tuesday that the motive for the slaying is still not clear.
Detectives also said that there was no connection between the death of the girl and the alleged attack on the boy nor was there an apparent relationship between the two victims.
# # #

Print This Post