HAWAII POLICE DEPARTMENT
CRIMINAL INVESTIGATION SECTION
LIEUTENANT RANDALL MEDEIROS
PHONE: 961-2252
JANUARY 22, 2006
REPORT NO. C06032918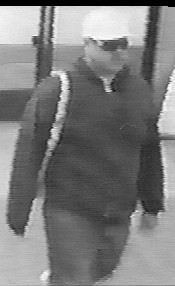 MEDIA RELEASE (UPDATE)
Big Island police are renewing their request for the public's assistance in a robbery investigation. Personnel at Hawaii Electric Light Company reported on October 20, 2006, that a man entered their business office on Kilauea Avenue in Hilo, brandished a handgun, and demanded money. He received an undisclosed amount of cash and was last seen fleeing on foot in a westerly direction.
Witnesses described the suspect as a local Filipino or Hawaiian male in his early-to-mid 30s, approximately 5-foot-9 tall, 190 pounds, with a large/husky build, a medium-to-dark-tan complexion, short black hair and possibly a moustache. He was last seen wearing a light-colored baseball cap, dark sunglasses, dark colored jacket and T-shirt, and pants.
Police ask anyone with information about this case to call Detective Lucille Melemai at 961-2377 or the police non-emergency number at 935-3311.
Tipsters who prefer to remain anonymous may call Crime Stoppers at 961-8300 in Hilo or 329-8181 in Kona. All Crime Stoppers information is kept confidential.
# # #

Print This Post