HAWAII POLICE DEPARTMENT
CRIMINAL INVESTIGATION SECTION
LIEUTENANT RANDALL MEDEIROS
PHONE: 961-2252
JUNE 23, 2006
C06019100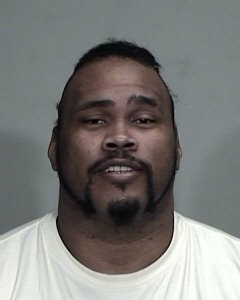 Francis O. Carter
…charged with Terroristic Threatening
MEDIA RELEASE UPDATE
Hilo detectives charged 37 year-old Francis O. Carter, also known as "Adobo", early Friday evening (June 23, 2006) with two counts of first degree terroristic threatening in an incident involving an alleged plot to kill two police officers.
Criminal Investigations Section detectives investigating the planned murders of two Hilo police Officers and their families arrested Carter earlier in the day in the parking lot of his Wainaku apartment complex. The officers threatened, assigned to the department's Ice Task Force, were allegedly targeted because of their successful efforts in taking methamphetamine dealers off our streets.
Carter, recently freed on $100,000 bond for pending drug offenses is now being held at the police cellblock in lieu of $200,000 bail for the new charges until his initial court appearance.
Anyone with information regarding this incident is asked to call Detective Gregory Esteban of the Criminal Investigation Section at 961-2384 or the police non-emergency number at 935-3311. Persons who wish to remain anonymous may call Crime Stoppers at 961-8300 in Hilo or 329-8181 in Kona. All Crime Stoppers information is kept strictly confidential.
# # #

Print This Post