HAWAII COUNTY POLICE DEPARTMENT
HILO CRIMINAL INVESTIGATION SECTION
DETECTIVE BENTON T. BOLOS
PHONE: 961-2385
JULY 31, 2003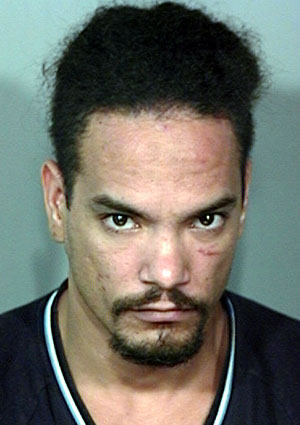 TYSON PETER REAVIS
…bail set at $50,000
MEDIA RELEASE
Police charged a 29-year-old Hilo man Thursday (July 31, 2003) with criminal property damage and a variety of other offenses stemming from an incident in which he damaged a victim's vehicle.
The suspect was identified as Tyson Peter Reavis, of a Mikihala Street address in Hilo.
About 2:30 p.m., Reavis was charged with two counts of criminal property damage; one count each of assault, terroristic threatening and promotion of a dangerous drug; and a variety of firearms offenses. He is being held in the Hilo police cellblock in lieu of $50,000 bail.
About 2:15 p.m. Tuesday, Reavis allegedly pulled alongside a vehicle stopped at the intersection of the Volcano Highway (Route 11) and the Keaau-Pahoa Highway (Route 139), got out of his truck and shattered the vehicle's windshield with his elbow, scattering glass debris over the driver and a passenger inside.
Reavis then allegedly chased the victims to the Keaau Police Station, where he grabbed the driver, poked him in his left eye and bit him on his left cheek.
About 2:30 p.m. the next day, officers arresting Reavis for assault and criminal property damage noticed drug paraphernalia in his truck. Officers got a warrant for a K-9 screen, and on searching the truck, they found a packet with drug residue. They also found a loaded .22-caliber rifle and a plastic box of ammunition.
# # #

Print This Post