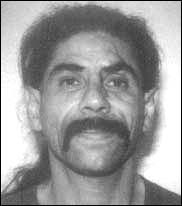 MATHEW SEGOBIA
…missing since December 17, 1999
HAWAII COUNTY POLICE DEPARTMENT
HILO CRIMINAL INVESTIGATION SECTION
DETECTIVE THOMAS WALTJEN
PHONE: 961-2378
FEBRUARY 18, 2000
G-14839
MEDIA RELEASE
Police are looking for a 42-year-old Hilo man who has been reported missing since December 17, 1999.
Mathew Segobia was last seen at a counseling session at the Ohana Counseling Center in Hilo.
Segobia is described as being 5-feet-11, weighing about 160 pounds and having brown eyes and long black wavy hair tied into a ponytail. He also has a thick mustache and unknown tattoos on his left arm, left wrist and chest.
Police said he may be driving a white Pontiac LeMans four-door sedan with the license number HPH-635.
Anyone who sees Segobia or knows of his whereabouts is asked to call Detective Thomas Waltjen of the Hilo Criminal Investigation Section at 961-2378.
Those who wish to remain anonymous may call Crime Stoppers at 961-8300 in Hilo or 329-8181 in Kona.
# # #

Print This Post