HAWAII COUNTY POLICE DEPARTMENT
OFFICE OF THE POLICE CHIEF
PHONE: 961-2244
AUGUST 19, 2004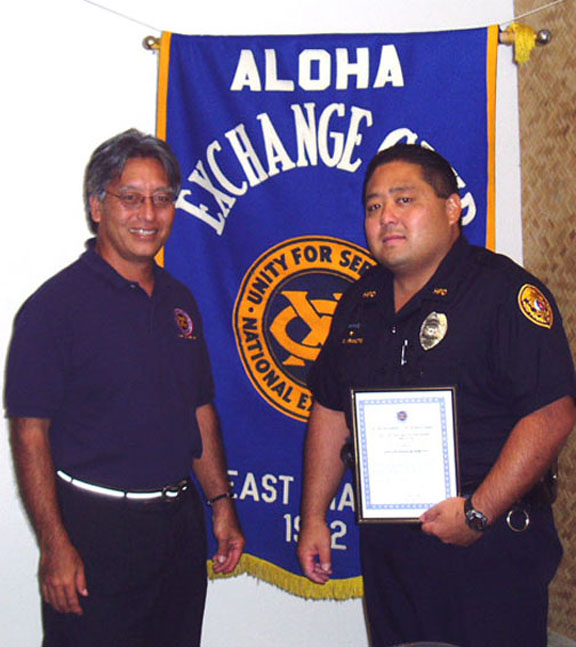 OFFICER OF THE MONTH – South Hilo Patrol Officer Derek Morimoto receives the Police Officer of the Month award from Andrew Iwashita, president of the Aloha Exchange Club of East Hawaii.
MEDIA RELEASE
Officer Derek Morimoto of the South Hilo Patrol Division was named Police Officer of the Month for June 2004 by the Aloha Exchange Club of East Hawaii.
Morimoto received the award during a luncheon meeting Thursday (August 19, 2004) in the Leilani Room of Uncle Billy's Hilo Bay Hotel.
Nominated by his supervisor, Sergeant Richard Miyamoto, the officer was recognized for saving an emotionally disturbed woman from seriously injuring herself and others with a razor blade on June 10, 2004.
Responding to a call in the area of Kalakaua Park, Officer Morimoto arrived to find that the woman had left the park and entered a Keawe Street building. Morimoto found the woman in a second-floor hallway holding a razor blade and threatening another female.
In nominating Morimoto, the sergeant said: "Officer Morimoto confronted the female suspect, distracting her long enough for the victim to get out of the area.
"Morimoto continued speaking with the suspect in an effort to convince her to drop the razor blade. The female still holding the razor blade told Morimoto that she did not care if she cut herself and also threatened to cut her legs.
"While speaking to the suspect, Officer Morimoto was able to distract her long enough to grab her wrist and arm. The female suspect struggled, refusing to listen to Officer Morimoto's commands, trying to break free of Morimoto's grasp. She was subsequently handcuffed and taken to the Hilo Medical Center for treatment of her injuries and mental condition.
"It was also noted that during a check of the suspect, an additional five razor blades were found in the pocket of her jacket."
Miyamoto concluded, "Officer Morimoto's quick thinking and actions prevented this female from continuing to cut herself and possibly harming others."
The Police Officer of the Month is only one of the community service programs sponsored by the Aloha Exchange Club of East Hawaii.
The Aloha Exchange Club, along with the Hilo Exchange Club, is affiliated with the National Exchange Club, a non-profit community service organization comprised of 33,000 members and 1,000 clubs throughout the United States and Puerto Rico.
# # #

Print This Post