HAWAII COUNTY POLICE DEPARTMENT
KONA CRIMINAL INVESTIGATION SECTION
LIEUTENANT HENRY W. HICKMAN
PHONE: 326-4203
APRIL 20, 2003
H-46420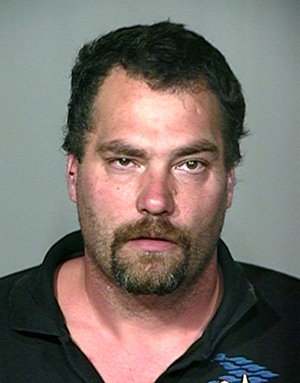 DOUGLAS JOHN FATHKE
…arrested for murder
MEDIA RELEASE
Police arrested a 44-year-old Ka'u man for murder Sunday (April 20, 2003) in the death of his eight-year-old daughter.
The suspect was identified as Douglas John Fathke, of a Naalehu address. The victim was identified as his daughter, Kelsie Fathke.
Responding to an 11:46 a.m. report of gunshots at Becky's Bed & Breakfast in Naalehu, police found the daughter in a bedroom fatally shot with a 30-30 caliber rifle. Responding fire rescue personnel tried revive the girl, but couldn't.
Police then arrested Fathke for murder. They also arrested him for attempted murder and terroristic threatening after it was learned that he had allegedly tried to strangle a 16-year-old boy staying at the bed and breakfast.
Fathke is currently being held at the Kona police cellblock pending further investigation by Kona Criminal Investigation Section detectives.
The girl was later taken to the Kona Community Hospital, where she was pronounced dead at 9:45 p.m. Kona CIS detectives have ordered an autopsy to determine the exact cause of the girl's death.
# # #

Print This Post