HAWAII POLICE DEPARTMENT
AREA II JUVENILE AID SECTION
LIEUTENANT GLENN UEHANA
PHONE: 326-4646, EXT. 230
OCTOBER 27, 2006
REPORT NO. C06033561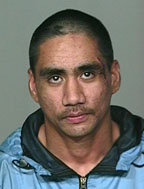 MEDIA RELEASE
Kona Police Detectives are searching for a 25-year-old man wanted for questioning in connection with a reported sexual assault of a female minor in Ka'u.
Charles Ha'o, also known as Kealoha, is about 5-foot-10 and weighs approximately 160 pounds. He was last seen running into a wooded area near Hawaii Ocean View Estates.
Police ask anyone with information about Hao's whereabouts to call Detective Llewellyn Fukui at 326-4646, extension 304, or the Police Department's non-emergency number at 935-3311.
Tipsters who prefer to remain anonymous may call Crime Stoppers at 961-8300 in >>Hilo>> or 329-8181 in Kona. Crime Stoppers does not subscribe to Caller ID. All Crime Stoppers calls are kept confidential.
# # #

Print This Post