HAWAII COUNTY POLICE DEPARTMENT
WEST HAWAII CRIMINAL INVESTIGATION DIVISION
CAPTAIN ROBERT HICKCOX
PHONE: 326-4646, EXT. 263
MARCH 9, 2005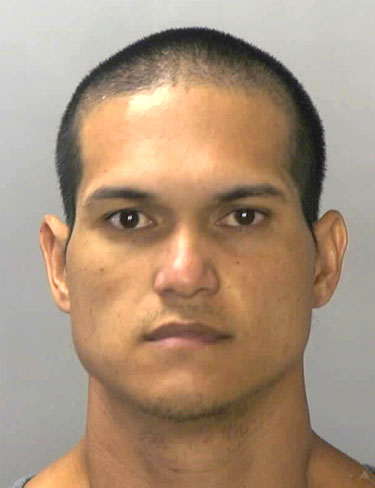 MEDIA RELEASE
Big Island police are looking for a 27-year-old suspect after arresting three other suspects during the investigation of a possible auto theft.
Police are looking for Blane Apostadiro, of Waikoloa, who is suspected of being responsible for burglaries and thefts in the West Hawaii region.
Apostadiro is described as being 5-foot-10 in height, weighing about 170 pounds and having brown eyes and closely cropped brown hair. Police said he may be armed and should be considered dangerous.
The other three suspects were arrested after fleeing from patrol officers as the officers attempted to stop their vehicle on Queen Kaahumanu Highway (Route 19) in Waikoloa.
After eluding the officers, the vehicle was located in Puuanahulu, North Kona, where two male occupants fled from the vehicle.
Two females, Leinette Reyes, 20, of Ka'u, and Maylene Jumalon, 27, of Kealakekua, were arrested in the vehicle.
One of the male suspects, John Macomber, 33, of Kalaoa, was later arrested at a residence in the area.
The other male suspect, believed to be Apostadiro, fled the area.
Macomber, Reyes and Jumalon were arrested for resisting an order to stop and unauthorized control of a propelled vehicle. They are currently being held in the Kona police cellblock pending further investigation by West Hawaii Criminal Investigation Section detectives.
Anyone with information on Apostadiro's whereabouts is asked to call the West Hawaii CIS at 326-4646, Ext. 266, or the police non-emergency number at 935-3311.
Those who wish to remain anonymous may call Crime Stoppers at 961-8300 in Hilo or 329-8181 in Kona. All Crime Stoppers information is kept strictly confidential.
# # #

Print This Post