Hawai'i Police Department
Hawai'i Isle Police Activities League
Officer Joseph Botelho Jr.
Phone: 961-2220/896-9710
August 7, 2009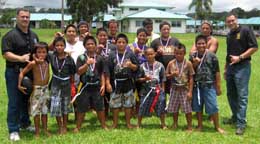 Lanakila youths pose with Officers Joseph Botelho Jr., left, and Frank Mohica.
Media Release (correction 4th paragraph)
The Hawai'i Police Department's Hawai'i Isle Police Activities League (HI-PAL) and the Area I Community Policing Program assisted the Lanakila Community Association, Queen Lili'uokalani Children's Center and Adie Ka-Ipo of the Salvation Army's Prevention Program with the "Lanakila Family Day Back to School Bash" on July 25 at the Lanakila Housing Center grounds in Hilo.
Activities included Bingo games, school supply giveaways, arts and crafts, and a flag football game officiated by East Hawaii HI-PAL Coordinator Joseph Botelho Jr. and Frank Mohica, a community police officer from the South Hilo District.
Officers Botelho and Mohica gave away prizes to some of the youths who participated in the flag football game.
Ka-Ipo [spelling corrected] said she appreciated the Police Department's involvement with the youths of Lanakila and looks forward to continued collaborative efforts.
The next scheduled HI-PAL activities are:
Date
Activity
August 15-16
2009 Click It or Ticket 3-on-3 Basketball Tournament
Kawananakoa Hall Gymnasium
August 29
Mountain View Family Fun Day
HI-PAL Tug-of-War Contest
For more information on these activities, call the HI-PAL office at 961-2220 or the Community Policing Office in Hilo at 961-8121.
---

Print This Post