HAWAII POLICE DEPARTMENT
CRIMINAL INVESTIGATION SECTION
LIEUTENANT RANDALL MEDEIROS
PHONE: 961-2252
JANUARY 1, 2006
C05044900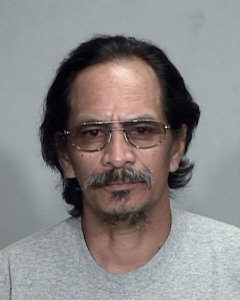 MEDIA RELEASE
South Hilo Patrol Officers arrested a 56 year-old Hilo man Saturday (December 31, 2005) in connection with a confrontation he had earlier in the Panaewa area involving three other individuals. Arrested was John M. Damo Sr. of a Hilo Address.
At approximately 12:25 p.m., one juvenile and two adult males reported to police that a man not known to them tried to run over all three of them several times while they were standing on the shoulder and roadway of Mahiai Street and clipped one of them, running over his foot. The trio, who had been riding two all terrain vehicles and a dirt bike, were stopped at that area momentarily when they were allegedly approached by the suspect who warned them about riding in the neighborhood then threatened to harm them. He was then said to have passed them several times coming close to them before actually striking one of them with his vehicle. The victim who was struck by the vehicle was taken to the Hilo Medical Center where he was treated for his injury and released.
East Hawaii Criminal Investigation Section detectives charged Damo Saturday evening (December 31, 2005) with one count of attempted second degree murder and three counts of first degree terroristic threatening. He was released later that evening after posting $23,000 bail.
Anyone with information about this incident is asked to contact Detective Uwao Chartrand at 961-2382. Those who wish to remain anonymous may call Crime Stoppers at 961-8300 in Hilo or 329-8181 in Kona. All Crime Stoppers information is kept strictly confidential.
###

Print This Post