HAWAII POLICE DEPARTMENT
SOUTH HILO PATROL DIVISION
CAPTAIN LARRY WEBER
PHONE: 961-2213
NOVEMBER 15, 2005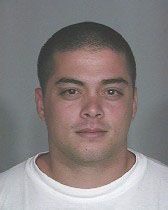 MEDIA RELEASE
Big Island police are asking for the public's help in locating a male suspect wanted for various criminal offenses stemming from an incident that occurred on November 15, 2005 (Tuesday), at about 3:30 a.m. in Hilo.
The suspect is identified as Brandon Lani, a 25-year old male, of no permanent address. Lani is described as being 5-feet 8-inches in height, weighing about 170 pounds with a slim build, a tan complexion, having brown hair and brown eyes.
On November 15, 2005, at about 4:05 a.m., patrol officers from the South Hilo Patrol Division responded to a report of a burglary at a residence on Kapiolani Street, in Hilo. It was reported that the suspect, Brandon Lani, forcibly entered the residence and struck the female victim (former acquaintance) while she lay sleeping. The victim also reported that while within the residence, Lani brandished a handgun and threatened to shoot her. The victim managed to flee the residence and contact police.
The suspect, Brandon Lani, reportedly fled the area in a white 4-door sedan, newer model, with a partial vehicle license plate of HTG 6–.
Police have initiated Burglary, Abuse Family Household Member, TRO Violation, and Terroristic Threatening cases in conjunction with this incident.
Anyone with information on Lani's whereabouts is asked to call the police non-emergency number at 935-3311. Those who wish to remain anonymous may call Crime Stoppers at 961-8300 in Hilo or 329-8181 in Kona. All Crime Stoppers information is kept strictly confidential.
# # #

Print This Post