Hawaii Police Department
Community Policing
Officer Jesse Kerr
Phone: 961-8120
May 5, 2008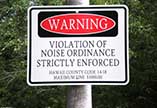 Signs like this one have been erected to remind motorists that the county's noise ordinance will be enforced.
Media Release
In response to complaints about noisy car sound systems, Hawaii county workers have erected warning signs on Banyan Drive and at the Keaukaha area beaches to remind motorists about the county's noise ordinance.
The signs read, "Warning: Violation of Noise Ordinance Strictly Enforced."
The penalty for repeat offenders who violate the noise ordinance is a fine of up to $1,000 and forfeiture of the violator's sound system.
Police intend to enforce the noise ordinance island wide.
---

Print This Post