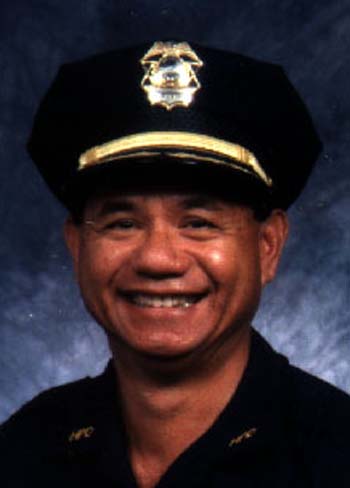 SERGEANT DELPHINE SOARES
HSLEOA's "Police Officer of the Year"
HAWAII COUNTY POLICE DEPARTMENT
OFFICE OF THE POLICE CHIEF
PHONE: 961-2244
AUGUST 22, 2000
MEDIA RELEASE
North Kohala Police Sergeant Delphine Soares Jr. has been named the Big Island's "Police Officer of the Year" by a statewide law enforcement organization.
A 29-year-veteran with the Hawaii County Police Department, Soares was recognized for his dedication and many years of service to the department and to the North Kohala community.
The Hawaii State Law Enforcement Officers Association presented the award to Soares at a recognition dinner held Tuesday (August 14, 2000) at the Royal Hawaiian Hotel in Honolulu. The dinner was held as part of HSLEOA's 47th annual conference in Honolulu.
Soares, born and raised at Hoea Camp, North Kohala, and a graduate of Kohala High School, was promoted to sergeant and assigned to his home district in 1981.
His supervisor, Captain John Dawrs, commander of the North Kohala District, said Soares is well known in his home district. Depending on their age, he said, district residents refer to Soares as "Brother Del" or "Uncle Del."
"Sergeant Soares became a true 'community police officer,'" Dawrs said. "His home became a virtual police substation. Residents will call Uncle Del at the Kohala Police Station before calling 911 or Central Dispatch. If he's not there, they will call him at home or go directly to his house."
Dawrs concluded:
"Sergeant Soares has put 24 hours a day, seven days a week of the last 30 years of his life into serving Hawaii County as a police officer.
"He has done more for his community than any other officer I know and has done it with only the hope that he is making the community a better place to live."
# # #

Print This Post