Hawaii Police Department
Office of the Chief
Lawrence K. Mahuna
Phone: 935-2244
September 27, 2007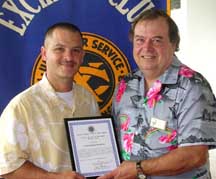 Aloha Exchange Club of East Hawaii President Winston Churchill, right,
presents an "Officer of the Month" certificate to Officer Brian Prudencio.
Media Release
The Aloha Exchange Club of East Hawaii recognized Officer Brian Prudencio as "Officer of the Month" for both July and August in a luncheon ceremony Thursday (September 27).
Prudencio was recognized for his work in the Police Department's Vice Section. Through tips from the public, he developed information that led to the July 9 arrest in Hilo of a Big Island woman, along with two Oahu men who were smuggling and distributing hard drugs on the Big Island. Police recovered 120.4 grams of cocaine, 2.8 grams of "ice," 1.5 grams of marijuana and $314 in cash.
Prudencio was also recognized for developing information about a Mexican national who was setting up a drug operation in Puna. A search warrant in the Ainaloa subdivision on August 3 led to two arrests, the recovery of 177.2 grams of powdered cocaine and $1,840 in cash. Police learned that a Colorado woman had hidden cocaine on her body on a plane trip from Los Angeles to Hawaii and then turned it over to the male suspect, who broke it down into smaller quantities for sale. Both suspects were charged with drug offenses. Their bail was set at $1 million each.
Lieutenant Samuel Jelsma, who nominated Prudencio for both awards, described him as a dedicated officer. "It was through Officer Prudencio's actions that a potential large drug operation involving both mainland and international ties was shut down in its very early stages before it could become established and bring large amounts of illegal drugs into our country," Jelsma said.
In accepting his awards, Prudencio downplayed his individual role in the arrests. "By recognizing me here today, you're also recognizing 12 fellow officers in the Vice Section that I work with," he said. "We share the same passion and dedication in our work."
As Officer of the Month, Prudencio is eligible to become Officer of the Year.
The East Hawaii Officer of the Month award is a project of the Aloha Exchange Club of East Hawaii.
---

Print This Post