Hawaii Police Department
Office of the Chief
Lawrence K. Mahuna
Phone:961-2244
March 19, 2008
(Select photo for larger image.)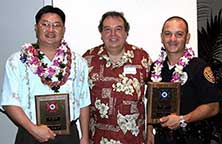 Aloha Exchange Club of East Hawaii President Winston Churchill presents the 'Officer of the Year' award to Brian Prudencio, right, and 'Fire Fighter of the Year' award to Neil Yoshioka.

Media Release
The Aloha Exchange Club of East Hawaii recognized Officer Brian Prudencio as "Officer of the Year" and Fire Fighter Neil Yoshioka as "Fire Fighter of the Year" in a ceremony last week.
Prudencio was recognized for his work in the Police Department's Vice Section. Through tips from the public, he developed information that led to the July 9, 2007, arrest in Hilo of a Big Island woman, along with two Oahu men who were smuggling and distributing hard drugs on the Big Island. Police recovered 120.4 grams of cocaine, 2.8 grams of "ice," 1.5 grams of marijuana and $314 in cash.
Prudencio was also recognized for developing information about a Mexican national who was setting up a drug operation in Puna. A search warrant in the Ainaloa subdivision on August 3, 2007, led to two arrests, the recovery of 177.2 grams of powdered cocaine and $1,840 in cash. Police learned that a Colorado woman had hidden cocaine on her body on a plane trip from Los Angeles to Hawaii and then turned it over to the male suspect, who broke it down into smaller quantities for sale. Both suspects were charged with drug offenses. Their bail was set at $1 million each.
Captain Larry Weber described Prudencio as a "very dedicated" officer. "I wish I had all Brian Prudencios in my command because he gives 150 percent all the time," Weber said.
Yoshioka, a Mobile Intensive Care Technician, was recognized for volunteering to apply for and manage a grant that led to the purchase of 50 radio translucent spine boards that were distributed to fire stations island wide. They eliminate the need to transfer patients from spinal immobilization boards to obtain diagnostic x-rays, prevent additional injuries to patients during x-rays and enhance each ambulance unit's ability to cover multiple injuries at each vehicle accident.
Yoshioka also took the lead in a federal grant application for equipment that removes vehicle diesel exhaust and assisted in the purchase of generators and lights that are now equipped on all fire apparatus.
"Fire Fighter Yoshioka's desire to serve without any expectation of honors or recognition clearly illustrates his unselfish commitment to public safety and community service," said Fire Chief Darryl Oliveira in nominating Yoshioka.
The Officer of the Year and Fire Fighter of the year awards are projects of the Aloha Exchange Club of East Hawaii, which presented the awards during a dinner ceremony on March 13 at the Hilo Yacht Club.
---

Print This Post