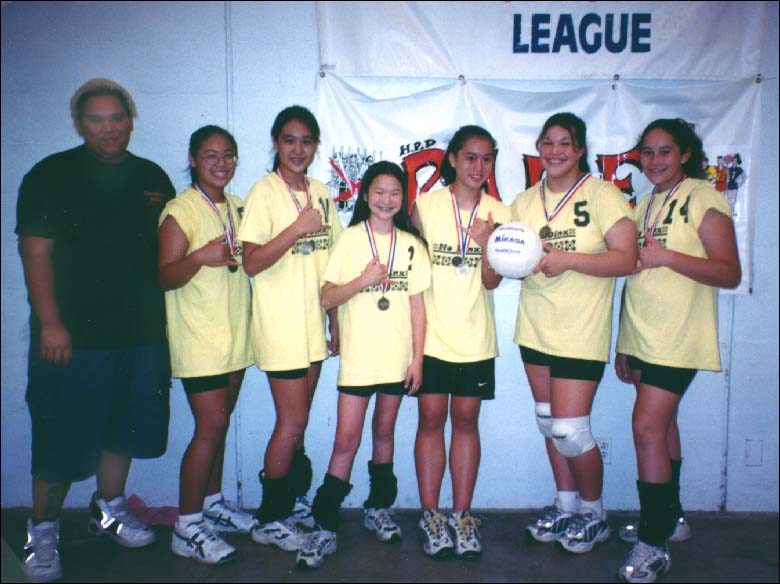 NO DINX — The Gold Division championship team consists of Coach Tristan Remmers, left, and players Leila Sibayton, Chesley Desa, Danelle Oshiro, Kehau Kekuawela, Jodi Kalawe and Julie McKeague. Coach Gail Rosehill is missing from photo.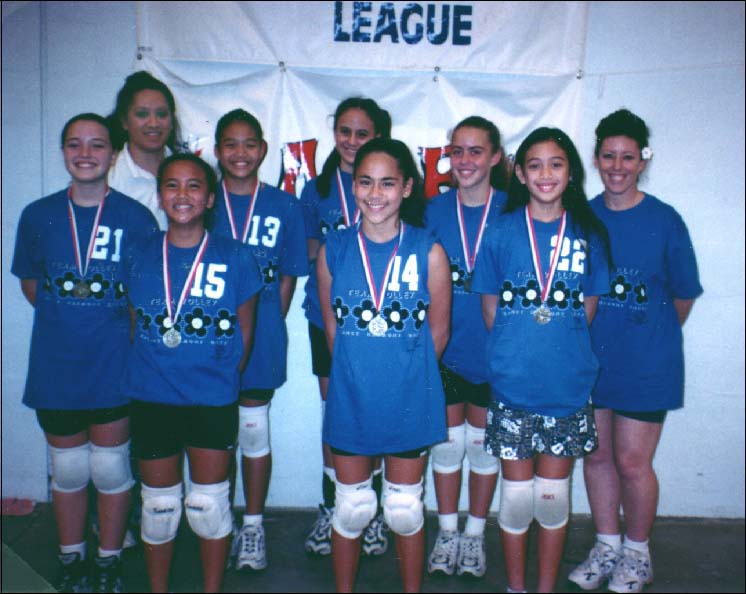 TEAM VOLLEY 12 — The Boys & Girls Club Team Volley 12, Silver Division winners, consists of, back frow, from left, Coach Budgie Baker, players Nani Fong, Kaniu Hernandez and Nicole Branco-Santos and Coach Sheryl Branco-Santos; and front row, from left, players Alohi Gronquist, Kawehi Moku, Uluwehi Fuller and Desiree Awong. Team member Lihau Bernabe is missing from photo.
HAWAII COUNTY POLICE DEPARTMENT
POSITIVE ALTERNATIVE GANG EDUCATION
OFFICER PETER KUALII
PHONE: 961-2278
MARCH 6, 2000
MEDIA RELEASE
No Dinx has captured the Volleyball Gold Division championship in the Eighth Annual Positive Alternative Gang Education (P.A.G.E.) Intermediate School Division Volleyball Tournament.
The Boys & Girls Club Team Volley 12 captured the Silver Division championship in the tournament, held between January 29 and February 19, 2000.
The tournament was sponsored by the Hawaii County Police Department's Juvenile Aid Section in cooperation with the Boys and Girls Club of Hilo. It was made possible with support from the State of Hawaii Office of Youth Services.
Seven teams took part in the tournament. Besides the Gold and Silver Division champions, the other teams were Boys & Girls Club of Hilo Team Volley 13, Hilo Intermediate School, Local Jam, Na Wahine O Hilo and YMCA Na Opio Juniors.
The tournament is part of the Hawaii County Police Department's efforts to give juveniles a positive alternative to joining gangs.
# # #

Print This Post