HAWAII COUNTY POLICE DEPARTMENT
PUNA PATROL DISTRICT
CAPTAIN ELROY OSORIO JR.
PHONE: 966-5835
NOVEMBER 14, 2001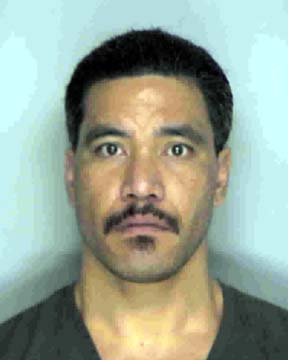 ERIC L. POEPOE
…sought for violation of parole
MEDIA RELEASE
Big Island police are looking for a 37-year-old man who allegedly violated the terms of his parole,
The Hawaii Paroling Authority has issued a warrant for the arrest of Eric Lopaka Poepoe, who is believed to be on the Big Island.
Anyone with information about Poepoe's whereabouts is asked to call the police non-emergency number at 935-3311.
Those who wish to remain anonymous may call Crime Stoppers at 961-8300 in Hilo or 329-8181 in Kona. The numbers are answered 24 hours a day. Callers will be given a coded number and their identity will remain anonymous. Callers may be eligible for a reward of up to $1,000 if their call leads to an arrest, indictment or the recovery of property. Crime Stoppers neither subscribes to "Caller ID," nor does it record phone calls.
# # #

Print This Post