HAWAII COUNTY POLICE DEPARTMENT
KONA CRIMINAL INVESTIGATION SECTION
LIEUTENANT HENRY W. HICKMAN
PHONE: 326-4203
APRIL 14, 2003
H-45080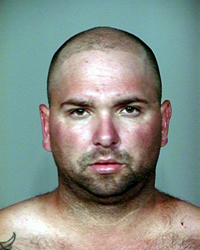 CASEY EASON
…arrested for murder
MEDIA RELEASE
Kona police have arrested a 28-year-old man for murder in the death of a man whose body was found Thursday (April 10, 2003) along the road to Makalawena Beach.
At 6:30 a.m. Monday (April 14, 2003), Kona Criminal Investigation Section detectives arrested Casey Eason, of a Kona Highlands address in North Kona, for murder.
Eason was arrested in the death of Michael Rhett Hackmeyer, 39, of Kailua-Kona, and is being held pending further investigation.
Hackmeyer's partially decomposed body was discovered along the Makalawena Beach Road about 5:30 p.m. Thursday by a family who called police. Earlier Thursday, the victim's family had reported him missing since April 1.
There was no identification near the body, and Hackmeyer was later identified through fingerprints. An autopsy concluded that the victim had died of severe head injuries consistent with foul play, and police reclassified the case from a coroner's inquest to a murder.
Kona CIS detectives — assisted by Hilo CIS detectives and the Evidence Response Team of the Federal Bureau of Investigation — are continuing their investigation into Hackmeyer's death.
# # #

Print This Post