HAWAII COUNTY POLICE DEPARTMENT
TRAFFIC ENFORCEMENT UNIT
SERGEANT ROBERT E. HATTON
PHONE: 961-2332
AUGUST 11, 2004
I-00932/KN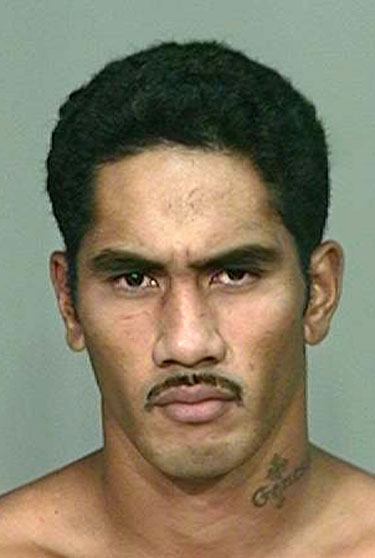 MEDIA RELEASE
Police have arrested and charged a 24-year-old Kona man with a variety of offenses after he led them on a chase on Tuesday (August 10, 2004) in a stolen truck.
The suspect was identified as Daniel Duke Kawailani Abraham, of no permanent address.
Abraham was charged with three counts of first-degree terroristic threatening, second-degree theft and various traffic offenses. He is currently being held in the Kona police cellblock in lieu of $12,350 bail.
At 11 a.m. Tuesday, officers at a seat belt enforcement check point in Kealakekua spotted Abraham driving a purple Ford Ranger pickup truck south on Hawaii Belt Road (Route 11) with an excessively dark window tint. After officers signaled him to stop, the suspect entered a parking lot where the checkpoint was set up, but then sped off, nearly striking a police officer and two bystanders.
Two of the officers gave chase. After traveling a short distance, the suspect stopped the pickup, jumped out and tried to escape on foot, but the officers managed to catch and apprehend him.
The officers later determined that the truck had been stolen and was carrying fraudulent license plates.
Police ask that anyone who witnessed the incident in front the Ushijima Store to call Officer Bradley Freitas of the Kona TEU at 326-4646.
# # #

Print This Post