HAWAII COUNTY POLICE DEPARTMENT
OFFICE OF THE POLICE CHIEF
PHONE: 961-2244
FEBRUARY 5, 2003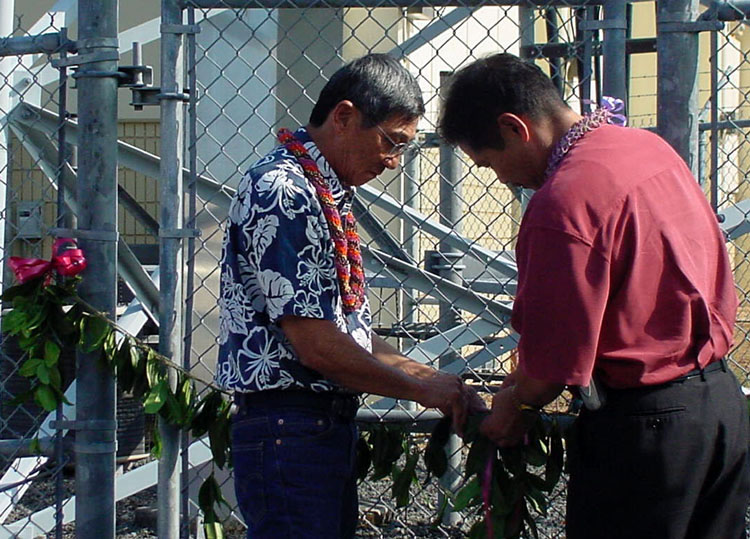 UNTYING MAILE LEI — Mayor Harry Kim, left, and Deputy Police Chief Harry S. Kubojiri untie a maile lei at the end of dedication ceremonies of a new digital microwave transmitter.
MEDIA RELEASE
A ceremony was held to dedicate Hawaii County's new 6 GHz digital transmitter Wednesday (February 5, 2003) at the Hilo police station.
The transmitter represents a part of a $10 million upgrade to the county's microwave transmission system.
The system is used not only by the Police Department, but by the Departments of Fire, Civil Defense, Public Works and Water, as well as by HELCO and other local, state and federal agencies.
Speaking at the dedication ceremonies, Mayor Harry Kim noted that before becoming mayor, he had served as head of the county's Civil Defense Agency for 25 years.
"One thing I learned in the field all those years was that you are worth less than a three-dollar bill without a good radio communications system," Kim said. He said the upgrade is badly needed.
Deputy Police Chief Harry S. Kubojiri noted that the current microwave transmission system is more than 25 years old. It's so outdated, he said, that replacement parts are hard to get.
Police Chaplain Henry Kahalehili blessed the project.
The 6 GHz upgrade to the system provides much-needed flexibility, such as the use of mobile data terminals in addition to voice communications.
The current upgrade will provide the infrastructure to a trunked system.
The complete upgrade is expected to take about two years. Once completed, the trunked system will have a sufficient number of channels to accommodate two-way mobile transmissions to areas specifically assigned for public safety use. It is designed to provide for increased channel privacy and to cut down on outside radio interference.
# # #

Print This Post