HAWAII COUNTY POLICE DEPARTMENT
OFFICE OF THE POLICE CHIEF
PHONE: 961-2244
MARCH 17, 2005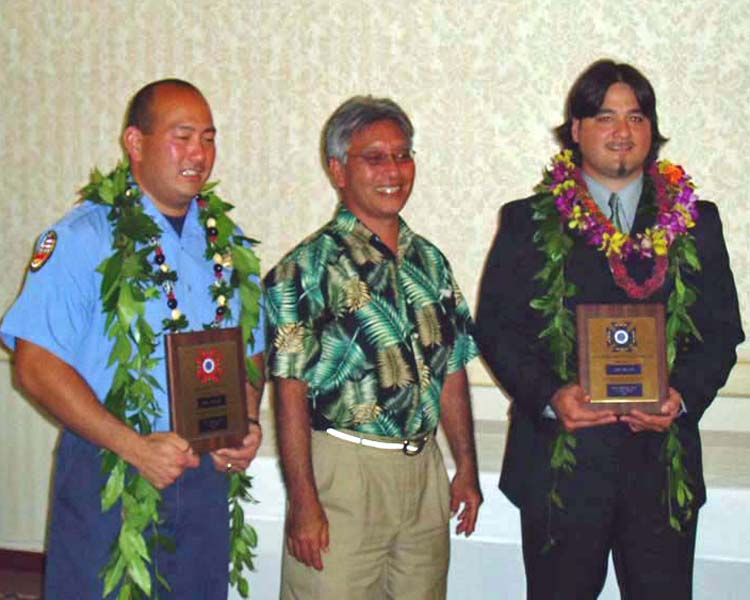 HONOREES – Chris Honda, left, was honored as Firefighter of the Year, and Officer Tod Bello, right, was named Police Officer of the Year by the Aloha Exchange Club of East Hawaii. With them is Andrew Iwashita, club president.
MEDIA RELEASE
The Police Officer and Firefighter of the Year for 2004 were honored by the Aloha Exchange Club of East Hawaii at a dinner Thursday (March 16, 2005) at the Hilo Yacht Club.
Officer Tod Bello of the East Hawaii Ice Task Force was named Police Officer of the Year, and Fire Fighter/MICT Chris M. Honda of the Honokaa fire and ambulance unit was named Firefighter of the Year.
Recommended by Lieutenant Marshall K. Kanehailua for the award, Bello was chosen for his work both as a South Hilo patrolman and Vice Section officer in the fight against the distribution and abuse of crystal methamphetamine, or "ice."
Speaking at the dinner, Kanehailua said that even as a patrolman, Bello developed a confidential informant willing to aid in drug investigations primarily of mid- to upper-level crystal methamphetamine distributors.
Kanehailua said Bello, who joined the department in January 2001, worked along with East Hawaii Ice Task Force officers, using the drug informant to conduct drug purchases. "He spent countless hours outside of his normal workday, identifying individuals involved in drug distributions and conducting drug purchases required for search warrants," he said.
One of the purchases led to a search warrant for a Hilo residence and the recovery of 57.2 grams of "ice," 15.5 grams of crack cocaine, 27.6 grams of powdered cocaine, a .356-caliber Derringer handgun and $9,678 in cash. Task force officers arrested a convicted felon on four counts of federal drug charges and one firearms count, and the suspect is being held on Oahu at a federal detention center.
Because of his efforts, Bello was "hand-picked to be part of the Ice Task Force, Kanehailua said. "He is an excellent officer, and I mean that from my heart."
Recommended by Fire Department Captain Michael Matsui, Honda was chosen for the "countless hours he has spent teaching fire fighters and civilians emergency medical services skills so they can better themselves and their communities.
Fire Chief Darryl Oliveira noted Honda had already earned his Emergency Medical Technician (EMT) and Mobile Intensive Care Technician (MICT) certifications when he joined the Fire Department in May 2000.
Noting that firefighting can sometimes be a thankless job, Oliveira said "it means a lot to be honored by the Exchange Club."
"It means so much more when it comes from the community," he said.
He said Honda's "dedication and can-do attitude" serves as an inspiration to others in the department.
Mayor Harry Kim also thanked the Exchange Club for recognizing outstanding officers and firefighters in East Hawaii.
As Civil Defense coordinator before he became mayor, Kim said he got to know many firefighters and police officers and was impressed with the dedication and commitment of the vast majority of them.
# # #

Print This Post