HAWAII POLICE DEPARTMENT
KONA JUVENILE AID SECTION
ACTING DETECTIVE PAULA JELSMA
PHONE: 326-4646
MAY 11, 2006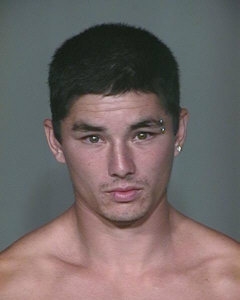 MEDIA RELEASE UPDATE
Big Island police are again asking for the public's help in locating a man wanted for various criminal offenses stemming from an incident that occurred on Saturday, April 08, 2006, between 12:00 p.m. and 4:00 p.m. in Kona.
The suspect is identified as Kawika Williamson, 21, of 37 Rabbit Hill Road, Captain Cook. Williamson is described as being 5-feet 7-inches tall and about 140 pounds with black hair and hazel eyes.
On April 10, 2006, at about 5:51 a.m. officers from the Kona Patrol Division responded to a report of an unauthorized control of a propelled vehicle at the Kohanaiki Business Industrial Park in Kona. It was reported that Williamson removed a truck belonging to Kona Lua, Inc. The truck, which was recovered by the owner, had damages estimated at $20,000. Williamson reportedly also attempted to remove another truck belonging to RSI roofing and damaged several other vehicles belonging to various businesses in the area. Williamson also has an outstanding bench warrant.
Police are investigating this incident as an unauthorized control of a propelled vehicle, attempted unauthorized control of a propelled vehicle and four counts of criminal property damage.
Police ask anyone with information on Kawika Williamson's whereabouts to call the police non-emergency number at 935-3311. Tipsters who prefer to remain anonymous may call Crime Stoppers at 961-8300 in Hilo or 329-8181 in Kona. All crime stoppers information is kept confidential.
# # #

Print This Post