HAWAII COUNTY POLICE DEPARTMENT
EAST HAWAII CRIMINAL INVESTIGATION SECTION
DETECTIVE TOM C. POY
PHONE: 961-2383
AUGUST 7, 2003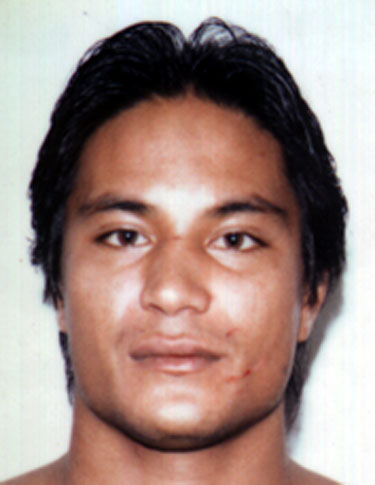 ADRIAN A. GLIMANE
…sought in UHH burglary
MEDIA RELEASE UPDATE
Police have renewed a plea for the public's help in locating a 28-year-old man wanted for questioning in a burglary at the University of Hawaii at Hilo.
The suspect was identified as Adrian A. Glimane, of no permanent address.
Glimane was seen at the location of a 1 a.m. burglary Thursday (July 31, 2003) at a portable building on the UHH campus, but disappeared before police arrived. After the burglary, about $4,000 in miscellaneous computer parts were discovered missing and later recovered.
Police already have arrested and charged Alexander Paglinawan in the robbery. Paglinawan, who turned himself in on Tuesday (August 5, 2003), was arrested and charged with second-degree burglary.
Meanwhile, anyone with information about Glimane's whereabouts is asked to call Detective Tom Poy at the East Hawaii Criminal Investigation Section at 961-2383 or the police non-emergency number at 935-3311.
Those who wish to remain anonymous are asked to call Crime Stoppers at 961-8300. All Crime Stoppers information is kept strictly confidential.
# # #

Print This Post