HAWAII COUNTY POLICE DEPARTMENT
KONA JUVENILE AID SECTION
DETECTIVE WHITNEY D. JENKINS
PHONE: 326-4235
JULY 12, 2001
G-73344/NK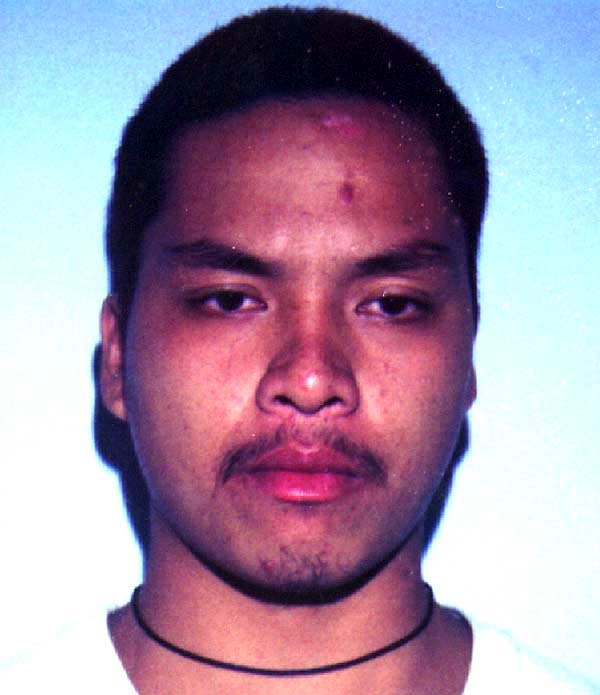 SHANE HONOLII SALIS
…sought by police
MEDIA RELEASE
Police are seeking the public's help in locating a North Kohala man wanted for burglary and assault.
Police identified the suspect as Shane Honolii Salis, 21, also known as "Shaney Boy."
Salis is being sought on an arrest warrant for burglary, terroristic threatening, second-degree assault and assault on a police officer. The offenses occurred during an incident July 9, 2001, at a residence in Kapaau, North Kohala.
Salis is described as being 5-feet-8 in height, weighing 195 pounds with a muscular build and having short black hair and brown eyes.
Police said Salis should be considered dangerous and should not be approached.
Anyone who knows of his whereabouts is asked to notify the police immediately by calling Detective Whitney Jenkins of the Criminal Investigation Division at 326-4235 or the police non-emergency number at 935-3311.
Those who wish to remain anonymous may call Crime Stoppers at 329-8181 in Kona or 961-8300 in Hilo. The numbers are answered 24 hours a day. Callers will be given a coded number and their identities will remain anonymous. Callers may be eligible for a reward of up to $1,000 if their call leads to an arrest, indictment or the recovery of property. Crime Stoppers neither subscribes to "Caller ID," nor does it record phone calls.
# # #

Print This Post