HAWAII COUNTY POLICE DEPARTMENT
WEST HAWAII CRIMINAL INVESTIGATION DIVISION
CAPTAIN ROBERT P. HICKCOX
PHONE: 326-4646, EXT. 263
APRIL 1, 2005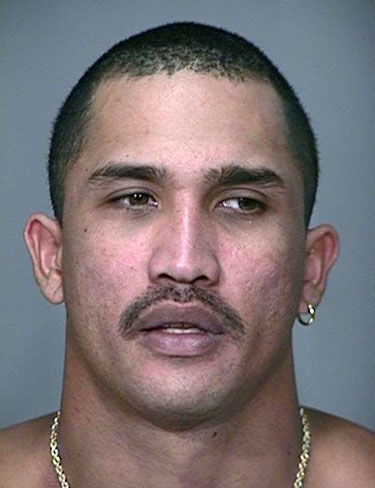 MEDIA RELEASE
Big Island police are looking for a 30-year-old man they believe is responsible for a number of recent vehicle thefts in the West Hawaii area.
The suspect was identified as Kyle Keoni Quilausing, whose last known address was in Hilo.
Quilausing is described as being 5-foot-7 in height, weighing about 145 pounds and having black hair and brown eyes.
Responding to an 8:34 a.m. call that a male was stripping a vehicle at the Natural Energy Lab at the Ocean Thermal Energy Conversion (OTEC) site, Kona patrol officers arrived to see a truck matching the description given by the caller. One of the patrol officers recognized Quisauling as he was working on the truck. As the officer passed him and tried to turn around, Quilausing jumped in the truck, sped off, turned onto Queen Kaauhumanu Highway (Right 19) and got lost in the traffic.
With the help of West Hawaii Criminal Investigation Section detectives, police made a search of the area and located the abandoned vehicle on Pukeawe Street in the Palisades subdivision.
The officers then stopped a woman seen walking along the road near the truck. The woman, identified as Michelle Regohos, 22, of Kailua-Kona, was arrested after she admitted to being an occupant in the truck. Regohos, who identified Quilausing as the driver of the stolen truck, is being held in the Kona police cellblock pending investigation by West Hawaii CIS detectives.
Neighbors in the Palisades area also reported they saw a male occupant of the truck running in a southerly direction toward Kailua-Kona.
Police are asking anyone who knows of Quilausing's whereabouts to call Detective Zack Houchin of the west Hawaii CIS at 326-4646, Ext. 262, or the police non-emergency number at 935-3311.
Those who wish to remain anonymous may call Crime Stoppers at 961-8300 in Hilo or 329-8181 in Kona. All Crime Stoppers information is kept strictly confidential.
# # #

Print This Post