HAWAII POLICE DEPARTMENT
EAST HAWAII CRIMINAL INVESTIGATION SECTION
DETECTIVE THOMAS WALTJEN
PHONE: 961-2386
OCTOBER 18, 2005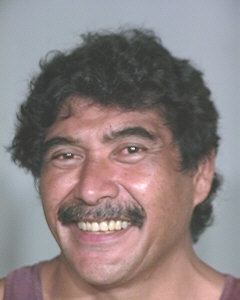 MEDIA RELEASE
Big Island police are asking for the public's help in locating a male suspect wanted on three outstanding bench warrants and for questioning in a Forgery investigation.
The suspect was identified as Darian Requelman, 45, of no permanent address. Requelman is described as being 6-feet in height, weighing about 250 pounds with a medium build and having curly black hair, and brown eyes. He was last seen operating a silver Toyota pickup truck, license number HER-763.
Anyone with information on Requelman's whereabouts is asked to call Detective Thomas Waltjen at 961-2386 or the police non-emergency number at 935-3311.
Those who wish to remain anonymous may call Crime Stoppers at 961-8300 in Hilo or 329-8181 in Kona. All Crime Stoppers information is kept strictly confidential.
# # #

Print This Post