HAWAII COUNTY POLICE DEPARTMENT
KONA CRIMINAL INVESTIGATION SECTION
DETECTIVE NANCY HAITSUKA
PHONE: 326-4227
NOVEMBER 19, 2002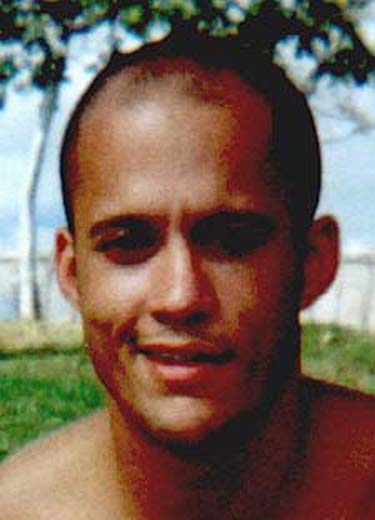 JASON HENDERSON
…missing from fishing trip
MEDIA RELEASE
Police are looking for a Waimea man who has been missing from a fishing trip for more than a month.
The man was identified as Jason Henderson, 30, who was last seen in the early morning hours of August 14, 2002, fishing offshore between Kapaa and Mahukona Beach Park.
Henderson is described as being part Caucasian and part black, having a medium tan complexion, being 6 feet in height, weighing about 210 pounds with a medium build and having a shaved head and hazel eyes. He is also described as having a tattoo of a ram's head on his left arm.
Henderson was last seen wearing red and black surfer shorts and fishing from a green and yellow Seahawk Zodiac inflatable boat with a 2-horsepower Honda outboard engine.
Anyone with information about his whereabouts is asked to call Detective Nancy Haitsuka of the Kona Criminal Investigation Section at 326-4227 or the police non-emergency number at 935-3311.
Those who wish to remain anonymous may call Crime Stoppers at 329-8181 in Kona or 961-8300 in Hilo. The numbers are answered 24 hours a day. Callers will be given a coded number and their identity will remain anonymous. Callers may be eligible for a reward of up to $1,000 if their call leads to an arrest, indictment or the recovery of property. Crime Stoppers neither subscribes to "Caller ID," nor does it record phone calls.
# # #

Print This Post