HAWAII COUNTY POLICE DEPARTMENT
PUNA PATROL DISTRICT
OFFICER SHERWIN W. TAKA
PHONE: 966-5835
AUGUST 12, 2002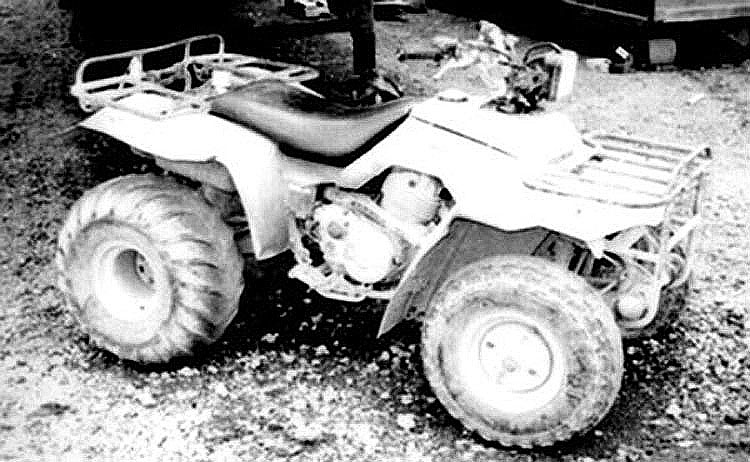 STOLEN ATV's – Two 1986 Honda ATV's were stolen sometime between August 4 and 5 from the Keaau construction site of Kamehameha Schools in Keaau. One of the stolen ATV's is pictured above.
MEDIA RELEASE
Puna police are seeking information about the theft of two all-terrain vehicles that occurred sometime on Sunday or Monday (August 4 or 5, 2002) in Keaau.
Investigating officers determined that thieves stole two red 1986 Honda ATV's sometime between 4:30 p.m. Sunday and 6:20 a.m. the following day. The 255 cc ATV's, each having racks on the front and back, were stolen at the construction site on the Kamehameha Schools campus.
Anyone with information about the theft or the identity of the thieves is asked to call Officer Sherwin Taka of the Puna Patrol at 966-5385 or the police non-emergency number at 935-3311.
Those who wish to remain anonymous may call Crime Stoppers at 961-8300 in Hilo or 329-8181 in Kona. The numbers are answered 24 hours a day. Callers will be given a coded number and their identity will remain anonymous. Callers may be eligible for a reward of up to $1,000 if their call leads to an arrest, indictment or the recovery of property. Crime Stoppers neither subscribes to "Caller ID," nor does it record phone calls.
# # #

Print This Post