HAWAII COUNTY POLICE DEPARTMENT
WEST HAWAII CRIMINAL INVESTIGATION DIVISION
CAPTAIN ROBERT P. HICKCOX
PHONE: 326-4646, EXT. 263
FEBRUARY 17, 2005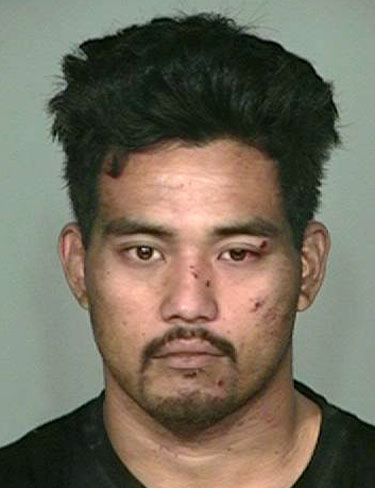 MEDIA RELEASE UPDATE
Kona police arrested a 25-year-old male suspect for attempted murder Wednesday (February 16, 2005) after he allegedly fired shots at three state highway workers earlier in the morning.
The suspect was identified as Charles Paulino of a Hilo address.
Paulino was arrested about 10 p.m. Wednesday as he was walking along Hawaii Belt Road (Route 190) near the 26-mile marker, about three miles from the scene of the earlier shooting.
Alerted to the suspect's location, two Kona patrol officers using a pickup truck spotted the suspect walking along the road, at which time the officers confronted him.
Resisting arrest, Paulino reached into his waistband and tried to pull out a 9mm semi-automatic handgun, but the officers subdued and handcuffed him.
Police recovered the handgun, which was loaded and had a laser sight. They also recovered an "ice" pipe, a pipe frequently used to smoke crystal methamphetamine, on the suspect.
Paulino was taken to the Kona police station, where is currently being held in the police cellblock pending further investigation by West Hawaii Criminal Investigation Section detectives.
Police had been alerted to the suspect's whereabouts by an officer of the State Land and Natural Resources Department's Division of Conservation and Resource Enforcement (DOCARE).Paulino allegedly fired shots at three state workers who caught him trying to steal a backhoe from a baseyard facility Wednesday morning.
Responding to a 9 a.m. report of shots being fired in the area of the 23-mile marker on Hawaii Belt Road in North Kona, Kona patrol officers determined that state highway workers were inspecting their baseyard when they observed suspicious activity inside. On entering the baseyard, they encountered a male suspect attempting to remove a backhoe from the gated facility.
The suspect fled on foot in the makai direction on an unimproved road, and the state workers gave chase. The state workers stopped the foot pursuit when the suspect reportedly brandished a handgun and fired multiple shots at them.
Responding Kona patrol officers and additional support units, including State Department of Land and Natural Resources DOCARE law enforcement officers, secured the area and conducted a ground and aerial search for the suspect until dusk. The search was to resume at daybreak.
# # #

Print This Post